Elvis Collectors Brasil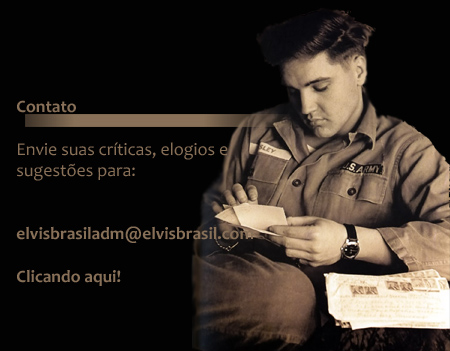 >

10/02/2009: April Fool´s Dinner.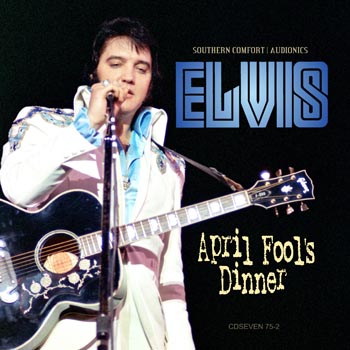 A Southern Confort, responsável pela bem recebida coleção American Way, lançará em breve o CD April Fool´s Dinner, uma gravação de platéia de excelente qualidade do show do dia 1º de Abril de 1975, em Vegas. O show já havia sido lançado na década de 80 no vinil Rockin With Elvis April Fool´s Day, mas a Southern Confort promete uma qualidade sonora muito superior. O CD virá no formato digipack ( o mesmo da FTD) e contará com faixas bônus do Midnight Show do mesmo dia, provinientes de um booth tape ( qualidade superior similar a do CD 1 A Profile 1)
Faixas:
01. Opening Vamp / C. C. Rider - 02. I Got A Woman / Amen - 03. Love Me - 04. If You Love Me (Let Me Know) - 05. And I Love You So - 06. Big Boss Man - 07. The Wonder Of You - 08. Burning Love - 09. Band Introductions - 10. What'd I Say - 11. Drum Solo (Ronnie Tutt) - 12. Bass Solo (Duke Bardwell) - 13. Piano Solo (Glen D. Hardin) - 14. Electric Piano Solo (David Briggs) - 15. School Day - 16. Celebrity Introductions: Roy Clark, Conrad Hilton / The Great Pretender (excerpt) - 17. My Boy - 18. I'll Remember You - 19. Let Me Be There - 20. Celebrity Introduction: actor Hugh O'Brian - 21. How Great Thou Art - 22. Hound Dog - 23. Fairytale - 24. Can't Help Falling In Love - 25. Closing Vamp.
Bônus
Big Boss Man* - 27. It's Midnight * - 28. You Don't Have To Say You Love Me - 29. An American Trilogy - 30. Help Me Make It Through The Night / Mickey Mouse March - 31. Steamroller Blues
Fonte: For Elvis CD Collectors Only
03/02/2009: Apresentações De Elvis No Dorsey´s Show Serão Restauradas.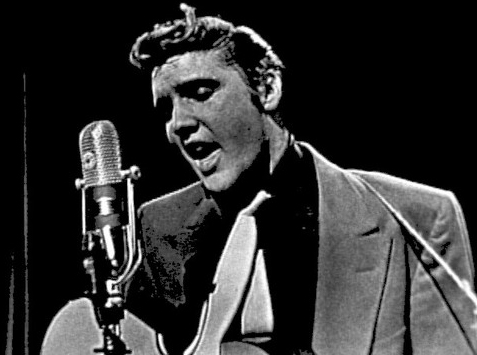 A primeiras apresentações de Elvis na TV serão restauradas.O projeto já está em andamento é é possivel conferir uma prévia do trabalho, para quem comprar um dos produtos da empresa, clicando aqui Nota: O arquivo é de 71 MB e possui Trailler de outro produto
Fonte: Elvis News
23/01/2009: Sunset Rundown E A Hilton Double Shot.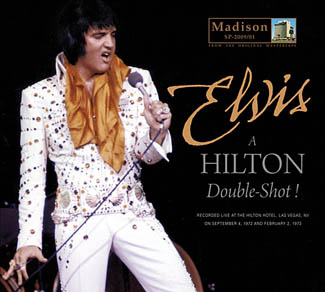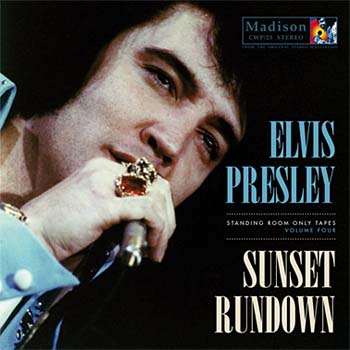 Sunset Rundown, contendo os ensaios de Elvis para as apresentações registradas para o documentário" On Tour" em 31 de Março de 1972 e A Hilton Double Shot, CD duplo contendo dois shows já previamente lançados, serão os próximos lançamentos da Madison. Os sounboards são os do dia 4 de Setembro de 1972 ( Previamente lançado como I´ll Remember You) e 2 de Fevereiro de 1973 ( Lançado anteriormente como Dont Think Twice, da própria Madison). Sunset Rundown conterá uma boa quantidade de material inédito dos ensaios.
Sunset Rundown
01. Proud Mary 2:49 ; 02. Never Been To Spain 4:29 ; 03. You Gave Me A Mountain (2 false starts) 1:40 ; 04. Until It's Time For You To Go 5:46 ; 05. Polk Salad Annie 3:09 ; 06. Love Me 2:39 ; 07. All Shook Up 2:35 ; 08. Heartbreak Hotel 1:59 ; 09. Teddy Bear / Don't Be Cruel 1:57 ; 10. Hound Dog 2:18 ; 11. The First Time Ever I Saw Your Face 5:42 ; 12. A Big Hunk O' Love 2:52 ; 13. A Big Hunk O' Love (reprise) 2:41 ; 14. C. C. Rider 3:30 ; 15. For The Good Times 3:44 ; 16. For The Good Times (2 false starts) 2:28 ; 17. For The Good Times (reprise) 6:34 ; 18. Funny How Time Slips Away 5:27 ; 19. Burning Love 2:46