Elvis Collectors Brazil is proud to present you this interview with Ronnie Tutt, who played drums for Elvis, both in studio as well in live concerts, between 1969-1977. Tutt talked to Brazilian fans for the first time about various subjects of his career as well of his time with Elvis. We hope you enjoy this interview as much as we enjoyed doing it.
Our sincere thanks to Ronnie Tutt for sharing his time and give us this interview, and to Jacqueline Ulmo, who sent him our questions.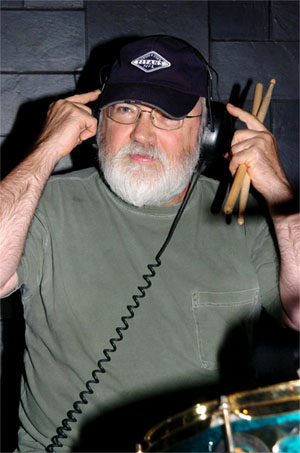 On The Drums from Dallas, Texas, Is hard-working Ronnie Tutt....
ECB: Elvis Collectors Brasil
ECB: (SERGIO) Could you start by telling us a little about your background and how did you end up playing with Elvis?


RONNIE: I started singing & dancing at about 3 1/2, my mom would drag me along to tap dancing lessons and I also started playing the trumpet. Between my Jr. and Sr. year in high school I traded my trumpet on an old drum set. I had enough of the trumpet and wanted to express myself rhythmically. I studied at a music college for about 3 years then started on staff in the "jingle" business in Dallas and later in Memphis,then back to Dallas. It was at this time that a good friend of mine, Larry Muhoberac who had done some of the piano work for Floyd Cramer in some of Elvis' movies, was operating a jingle studio with me in Dallas. Larry got the call that Elvis was putting a band together and asked if I wanted him to put my name in the hat because they were to audition drummers. Larry said that Elvis had not appeared live in concert in 10 years and everybody would be going to see him, so I said ok and sure enough, I got the call to audition.



ECB: (SERGIO) What was your first impression about Elvis Presley when you first met him?

RONNIE: I liked him instantly--this man had tons of charisma--we had great rapport from the very first.



ECB: (SERGIO) How it was to play with Elvis in the arenas around the US, what was the good and the bad about it?
RONNIE:
We all loved the actual performing of the live concerts with the instantaneous responses from the vast audiences. However, our tour was "technologically challenged" as to sound, monitors, lighting & staging, compared to other major tours of that time. Keep in mind that the large majority of arenas were not originally built for sound and concert acoustics but for all types of events, mostly sporting. Somewhere along the way in the early history of rock concerts, a bright -if not somewhat greedy- promoter figured out how to get as many people as possible in one place to pay to hear a concert and be part of the "event". The really hard part was the logistics-getting from one city to another and too many shows in a row without enough rest=($ ?)
ECB: (SERGIO)what shows you recall, that stood out as fantastic performances during the years on the road?

RONNIE: I would say beginning in Vegas, August '69 our second shows ( at midnight) were consistently electrifying-as we were all trying our absolute hardest to impress all the many fans, celebrities, artists, and entertainers that nightly were in the audience. There were three more unforgettable shows: at the Astrodome in Houston, Texas, for 45,000 people. We performed in the middle of the arena on a kidney shaped revolving stage and there was two and a half second delay in the sound. The people were so far away they looked like ants, so Elvis thought it was funny so he'd do a exaggerated sudden move and 2 1/12 seconds later, we would hear this kind of "roar" reaction from the crowd. He finally turned & faced me and everyone scooted closer together and we kind did our own show to ourselves. There was a New Years Eve show in Detroit, Michigan, at the Pontiac Silverdome for 60,000 people, performed in the round on a ten foot high stage-wow...of course there's "Aloha From Hawaii, live via satellite" where we stayed a week at the Rainbow Hilton on Waikiki beach and did a live concert in front of a live arena audience in Honolulu...Hawaii is a special place to us!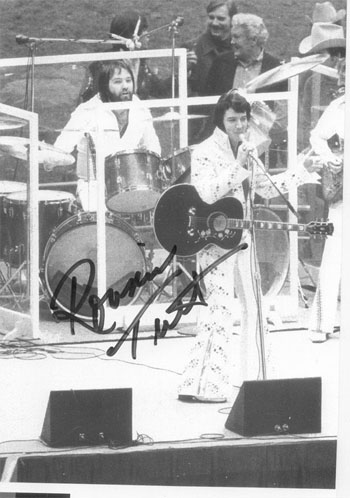 Ronnie Tutt rocking the Astrodome in March 1974.

ECB: (MARCO) Was there any song in particular that you most liked to play live?

RONNIE: Yes, "Big Boss Man" because he never slighted or rushed thru the song, but let it keep I´ts groove & funky-er rhythm. I can tell you a few songs that I disliked most to play: "Polk Salad Annie", "Suspicious Minds", "Patch It Up", & "Fever". The first 3 were fun as well as challenging in the beginning but eventually became a parody of themselves .



JACQUELINE: Was there a big difference between playing in Vegas and playing on the road? Could you give some examples, please?
RONNIE: It's kind of like the difference between running a sprint and a marathon....road shows were one show per night- no holding back -give it all-as fast as you can...and with Vegas shows you had to "pace" yourself as you had to do two shows-seven days a week-and three shows on the weekends! The two Vegas shows were very different in that the first show was a "dinner" show with all the sounds of people eating- plates, glasses, people loudly talking & laughing, waiters dropping trays. It drove us all crazy.But the second show was drinks only and the audience came in fired-up, ready to listen to the show of a lifetime!



ECB: (LUIZ) In the last two years of Elvis career, the tours started to be almost monthly. Did the band get any orientation about the set list before the start of it?


RONNIE: No, there was rarely any rehearsal before tours, only before the long Vegas stints.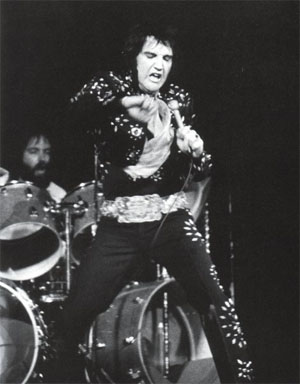 Ronnie Tutt and Elvis at The Boston Gardens, November 1971.
ECB: (LUIZ)Was there any kind of contact between the band and Elvis before or after the tours?

RONNIE: If he wanted, he was always welcome to contact us about anything, but usually only if we were doing a recording with him--like in L.A. at RCA, Memphis at Stax, Nashville, and of course Memphis at Graceland.


JACQUELINE: In March 1972 you recorded with Elvis at RCA Hollywood, which was the first time you recorded in a studio with him. What were your impressions of working in the studio with Elvis?

RONNIE: Pretty much like a rehearsal-in that he did what he wanted...when he wanted. I quickly learned that he was basically uncomfortable in the studio as they tried to make him stay and sing behind "flats" or sound barriers which crazed & frustrated him. So at times, he would take the mic off the stand and carry it around like it was a hand held kind, and come and stand in front of me like he was used to doing on stage so he could "feel" the rhythm, not just hear it! He was a "purist" when it came to recording. I think he believed the purpose of recording was to record/capture a live performance. If not, why are his live recordings so much more exciting and energized than his studio ones?



ECB: (RENAN)Elvis's last studio sessions were recorded at his home in Memphis, Graceland. It is rumored that he tried many songs from "The Platters" and also, a version of "Feelings" Do you think that any of this songs were recorded?

RONNIE: I honestly Don't Remember.



ECB: (SERGIO) Among all of them, what was your favorite recording session of the ones you did with Elvis and why?

RONNIE: I would have to say the RCA session when we did "Burning Love". We had been trying to encourage him to do more "rockers" and man... Was this one....Elvis' producer Felton Jarvis was having severe kidney trouble and had to lay down on the control room floor, so I basically had to jump in and produce/arrange the basic track. The guys (James Burton on guitar and Emory Gordy on bass) came up with some fantastic lines and the rest is history.



ECB: (SERGIO) After the Aloha from Hawaii, it was the perfect time to start a world tour. However, Elvis was brought back to Vegas, and it was clearly a disappointment to him. Did he express this discontentment with you guys?

RONNIE: No, not his discontentment...only his desire, as he told me on two separate occasions, that he wanted to go abroad and tour overseas. Quite regrettably, as he could have gone almost anywhere in the world to perform.



ECB: (SERGIO) In August 1974, Elvis opened a new season in Vegas. He rehearsed many new songs, most from his newer material. Even the opening act had changed from "See See Rider" to "Big Boss Man". However, after the Opening Night, half of those songs - like "Good Time Charlie Got the Blues" and "Down in the Alley", had gone forever. It was said that the audience didn't like the "new" show and therefore, Elvis returned to the old pattern. But when you listen to the record, it seems that the audience reacted very well to it. So, what really happened that made Elvis return to his old show, after so much work?

RONNIE:
As I said before, he had his insecure side and was strongly a creature of habit. So when the audience didn't respond like he thought they should or the way he was used to, he over-reacted and scrubbed the whole set and went back into his comfort zone. And you know, the audience always wanted to hear the old favorites.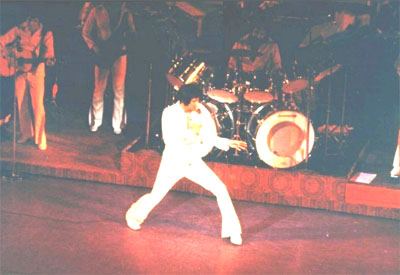 Elvis and Ronnie. Vegas, August 1974

ECB: (RENAN) Ronnie, as you probably know, a tape containing the August 1974 rehearsals, surfaced some years ago with new songs being rehearsed for the upcoming Las Vegas August 1974 season, including a beautiful version of "The twelfth of never", "Softly As I Leave you", among others. Do you have any particular memories of those pivotal rehearsals?

RONNIE: Unfortunately, I do not. But I do remember Shawn Neilson singing "Softly" as Elvis spoke the story--an extremely touching moment. Not many dry eyes in the audience.



ECB:(SERGIO) After the brilliant opening night, things seemed to slide a little, and at the last show of the season, Elvis reacted strongly about the rumors of drug usage that the press had publicized .You were present at that infamous Closing Show on September 1974, in Vegas. Do you remember your reaction to Elvis speech about his alleged use of drugs? He seemed to be very angry and upset about what the tabloids said. Did he comment anything to you about this matter after or before the show?

RONNIE: Honestly, no, he did not and I also do not remember anything about this.



ECB:(SERGIO)After the end of most Vegas's seasons, there was a private party on Elvis's suit. How those parties were like? Do you have any special moment that stood out in your memory?

RONNIE: Actually, there were two parties after most shows, the fist one was in his dressing room suite after the show to entertain mostly celebrities, and the second was up in his penthouse suite for friends and guests we were welcome to bring up. One night I came into his dressing room and there was Lucille Ball. She looked at me with those beautiful blue eyes and told Elvis: "I think I might take this guy home with me...as you know I'm partial to drummers".


ECB:(SERGIO) Did you recall any funny moment in studio or in concert that particularly stood out in your mind? What are the best memories you have about Elvis?

RONNIE: There was this show in Buffalo,New York...all throughout the show people were extremely "rowdy" and having a great ol' fun time...then at the end of our closing song: ("I can't help falling in love with you") I went into the familiar drum solo pattern followed by the orchestra playing: duh-dunt-tah....duh-dunt-tah.. ... The audience went wild out of control and started rushing the stage. Elvis was already on his way off stage when he looked back and saw, with great amusement, the following: Charlie Hodge in a ridiculously hopeless but courageous effort, launched himself sideways into the front of the onrushing crowd in an effort to block their progress....he immediately vanished from view, swallowed up by the onrushing crowd...a few seconds went by and out from the crowd came Charlie, rolling head over heels, as if the crowd had swallowed him up and then spit him out. I looked over towards Elvis, who in the meantime had found a good vantage point to watch and make a fast exit, he was falling over laughing as we all were.
Favorite memories can be summed up by saying: his laughter, his sense of humor, his desire to have a good time and fun in such a demanding business. His generosity. His spirituality.

JACQUELINE: Can you tell us a little more about your friendship with Elvis? Did you see him often in private?

RONNIE: Yes, upon occasion, but I was careful not to be identified as one of the "hangers-on" who at times, surrounded him. Karate classes were held frequently up in his penthouse which my wife & i attended. I realized that in order to "catch" or read his moves on stage, I could help myself to do this by studying karate. He taught us as well as brought in visiting instructors such as Master Kang Rhee and of course the father of American karate, ED Parker, was usually there.


JACQUELINE: Did you talk to him man-to-man about personal things?

RONNIE: Yes, I did, but these talks are too personal and private for me to discuss in a public forum. Maybe someday...



JACQUELINE: What did you think of Elvis Presley at that time years ago - and now at these days?

RONNIE: I saw Elvis for the first time in 1955. I had recently started playing the drums and was playing with this very good "western swing" band that was the "house" band for the Saturday night radio broadcast live from ft. Worth Texas, called : "The North Side Jamboree". It was Texas' version of the "Grand Ole Opry" and "the Louisiana Hayride". I had driven over with my girlfriend and Elvis arrives for the show with Scotty Moore and Bill Black, just three of them, so Elvis had to play the rhythm on his acoustic guitar. So after breaking most of the strings on his own guitar he reached over and grabbed our guitar player's very nice and expensive Martin and after his set, handed it back with strings missing and deep pick scratches all over the front wood of the guitar. Not a very cool thing to do, so I didn't have too good of an opinion of him at the time, especially since my girlfriend was going crazy over him.
As the old expression goes; "absence makes the heart grow fonder" this is very true because I only think of the good times and great experiences with this highly gifted and talented man...but always remembering, after all, he was just a man...



JACQUELINE: Around that time, it became quite common that all musicians were given credit n the albums, but Elvis's musicians never did. Was this ever discussed?

RONNIE: Not directly with Elvis, but it was embarrassing and frustrating to us as we were listed on many other artist's albums. One explanation was that the singer's union (AFTRA) requires all albums to credit/list singers and our musicians union (AFM) does not. So obviously, the Col. chose to not list us even though Elvis introduced us on live recordings! Could it have been because Col. Parker didn't want us to appear too strongly or importantly associated with Elvis, as this would cause our value or "stock" to go up?

JACQUELINE: How was the relationship between the Band and Elvis manager, Colonel Tom Parker? Could you highlight the good and bad points about him Parker in your opinion?
RONNIE: From my perspective, I believe he thought musicians were "a dime a dozen" and the only person of value was Elvis, which from his viewpoint is understandable. I don't know the details, but I believe it all goes way back to when Elvis, Scotty, Bill, and later DJ, were a band and Scotty was the manager. Possibly there could have been some major issues and problems in breaking Elvis away from these guys for the Col. to manage, so it's possible that the Col. never again wanted musicians to be too important or too closely associated with Elvis. There's the album credits issue along with absolutely no pictures taken that were authorized by the Col. included any of us with Elvis. It was said he had us "blacked out" or omitted from the photos. It's only the later unofficial pics that you see us next to him or in the background. In nine years I can count on one hand the times the Col. was friendly and spoke to me, such as passing him in a hotel hallway,I'd say: "hello Col." and he'd keep on walking and not say a word....strange. The best thing I can say about him was when it came to business, he was always straight and honest with me. During one of our Vegas engagements, only after a few shows, Elvis became ill and had to cancel the entire remaining engagement. The Col. called me into his office and without any attempted dealings whatsoever, paid me for the full entire engagement (which-by the way-I had a signed contract for). All this aside, as a manager, i think for a time what the Col. did for Elvis and the rise of his career was amazing, as a person I don't think he understood Elvis' heart and artistic temperament that needed bigger & greater things for inspiration, and things to keep him looking forward to and enjoying life to the fullest.




ESPECIAL FAN QUESTION FROM PAULA: Looking back now, was there ever a feeling that you and the Band were doing something so big and so great, that would be heard and praised so much in the decades to come?


RONNIE: Actually, not really. In my opinion, we were working musicians doing what we did best for a living. We had no delusions of grandure. Sure we were known & respected & "in demand" in our industry but no one could foresee the phenomenon that was to come. The one time that came close to "so big & so great" was the Aloha From Hawaii live satellite around the world TV show, which was an amazing experience, now that I look back on it. So many millions of people watching us live, simultaneously around the world....an awesome experience.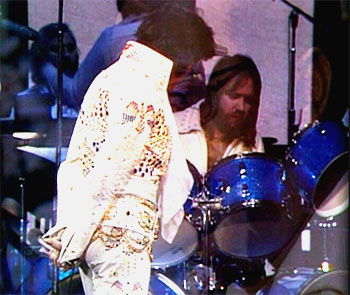 Ronnie Tutt goes live, worldwide. Aloha From Hawaii 1973.
ESPECIAL FAN QUESTION FROM PAULA: Did Elvis know that he was so loved in your opinion?

RONNIE: I don't think he fully & completely knew-as he was mostly sheltered from his fans and admirers-unfortunately for good reason. As crazy as it sounds, he had an insecure side of his personality that was constantly looking for acceptance.



ECB:(MARCO)Ronnie, before we finish this interview, we would like to know if you could tell the Brazilian fans, what are you doing now and what are your future projects?
RONNIE:
As of last year, I finished my 25th year with Neil Diamond's band and he decided to take this year ('06) off from touring. This gives the opportunity to do projects and shows through out this year, mostly Elvis related. However three of us, Glen D, James & I, just completed an album of original songs here in Nashville for a singer/songwriter named Jim Lauderdale,a talented man,very nice & very funny. Last month we-the TCB band-recorded 24 all original songs in German, for a very nice young man named Michael Werner. Release dates are unknown as both these artists are unsigned to a record company. Next month we'll do a CD with a guy from Texas named Ted Patton who wants to record an album of Elvis songs to give away for charity.

Another project that's been released is titled: "Drum Duets". John Wackerman arranged and played these duets with top selected drummers--selecting styles, grooves & rhythms that each drummer is somewhat known for--I was honored to be asked and included with these great players.
Another project that will be released in the near future is a DVD of the 25th anniversary concert from the Pyramid in Memphis. I've seen parts of it and it looks fantastic! I never thought it could be produced/ done so well.I was pleasantly surprised.

As to the future,I'd like to still be playing as long as I'm healthy enough to keep doing' it. There's a lot of fans all over the world I'd like to meet and so many interesting places to go and see-so for now, my outlook is to continue doing what I've always done…I'm not sure what else I'd do, but God only knows what I should be doing.. He has given me a gift-as he has all of us, so I will continue to use it to the best of my ability. Maybe someday we'll not travel so much, but that's not a decision to be made as of the present.
We once again like to thank Ronnie Tutt for this interview and wish him the best luck in his future projects.
® 2006 Elvis Collectors Brasil. O conteúdo deste site, seus textos e imagens são de exclusividade do mesmo. Qualquer reprodução do seu conteúdo sem prévia autorização dos proprietários é proibida e consiste em falta de ética.

Home