We are proud to present you another interview, this time with the great John Wilkinson. John talked to us by phone, and just like all the other guys from the band, he revealed himself to be a wonderful gentleman, very down to earth and a genuine Elvis friend.
We talked to him while he had just returned from an amazing show in Holland, where all the gang reunited again.
I would like to thank John for taking the time to answer our questions in such a kind manner and also Peter Verbrungg from Elvis Matters, for set up this interview.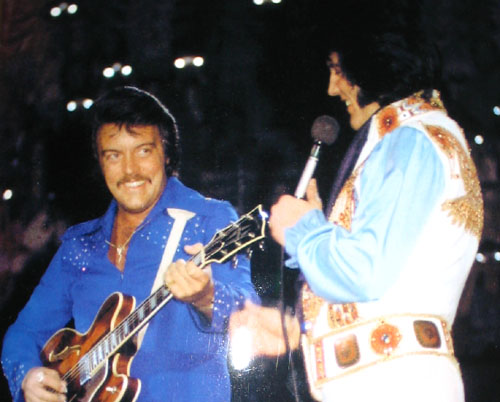 "On the rhythm guitar, from Springfield, Missouri, is Mr. John Wilkinson..."
ECB: Elvis Collectors Brasil
ECB: Hello John How Are You?
John Wilkinson: Im doing Pretty Well, Thank You


ECB: I don't want to take much of your time John, so first of all I want to say that it's a honor to talk to you and I want to thank you in behalf of all the fans here in Brazil, to take the time to answer our questions and we are very anxious to hear what you have to say to us.
John Wilkinson: I´m looking forward to it too, Sergio. You can take all the time you want, I anxious to talk to all the fans in Brazil.
ECB: We appreciate it very, very much John. If you don't mind, I will read the questions for you, so I think you will understand me better this way, can it be?
Jonh Wilkinson: I don't speak portuguese at all my friend, so you´re ahead at the game( laughs)
ECB: Well, John, maybe someday when you come to Brazil we can work it out...
John Wilkinson: I would love to come to Brazil someday.
ECB: That would be fantastic John! You told me that You´re recently in Holland with all the guys and girls, right?
John Wilkinson: Yes, it was on May 20. It was a big show with Jerry, James, Ronnie and the Sweet Inspirations, The Imperials, Joe Guercio and his orchestra...It was quite the show Sergio.
ECB: Fantastic John, I hope we can bring you guys here someday. John, to start this interview could you tell us about your background and how did you ended up playing guitar?
John Wilkinson: I started playing guitar when I was five years old, and I started playing five string blue grass banjo When I was six years old, I had a early start on guitar. And I lived in Springfield Missouri, and Springfield is a big city for country and folk music. I heard all those kind of music at the radio and when I liked a song I would pick the song and would learn the chords of the song in the piano and would take it to my acoustic guitar.
A couple of fellows at my school were already good guitar players an they put together a folk group, that tried to copy the Kingston Trio and they invited me to be part of that group, so I played a lot of guitar in high school and did a lot of singing.
My background in music comes also from my home. My mother and father loved music and they listened to a lot of types of music, country, opera, classical, like Mozart, Beethoven, that kind of thing. So there always music in my house. I was surrounded by music.
And perhaps it was something born in me…the love in music and to perform that got me really started.
ECB: I believe so John. And still at this matter, you recorded in 1969 some of your own material for RCA. Could you tell us about this?
Jonh Wilkinson: Well, at the middle of 1968, I had quite a group called "The Good Times Singers", - which was Andy Williams group on TV- and the bass player of that group, went out to be a producer of RCA, when the group broke up. He called me and said: "John I would like to record you". I said "OK, I would like to make a record". It turned out that we made five records, actually. So I stayed with RCA for a year and a half, I guess. We recorded some pretty good things. (I.E: John Wilkinson records are: "July You´re a Woman/ City Sidewalks", "You´ve Got Nothing To Be Ashamed of/Make It Rain" and The Last Resort/ The Great Truck Race". Also, John recorded a demo song called "Nashville". You can find more about these songs at: www.johnwilkinson.net )
ECB: It was about this time that you started playing for Elvis, right?
John Wilkinson: That's right Sergio. I had met Elvis on several different occasions.(I.E: The first time John met Elvis, John was only 10 years old. That didnt prevented him to say right on Elvis face: I may be much younger, but I can play better guitar than you do.")
And on some of those occasions, he told me that one day he would stop to do all those stupid movies that Parker made him do, and that he would be back on the road to perform live on stage for all his fans. He said "I really believe that that's why I'm in this world for…To perform for people and make then happy". He said "One day I'm going to put a band together, John, and maybe, -´cause I like the way you "finger pick" the guitar and banjo- maybe you'll be on my band". And I said, "That would be a dream come true for me. You know, I've been following you and your work ever since you started."
And as it came to be, he called James Burton to be on lead guitar and James was putting together the band, and he played on my records for RCA so he knew my work, and he also knew me as studio musician ´cause I have done quite a lot of studio work. And just happened that Elvis called me personally and said "Jonny, I like the way you play guitar and you remember that I told you that I was gonna start to perform live again". I said "Yes, I remember that", and he said, "Well, I got one space left in my band that I need to fill, and I need a rhythm guitar player and I know what you can do and I would like you to take this spot if you want the job". And I said that James has just called me about that and I told him that I'll do it. He said, "Well, I m calling you, would you tell me that you'll do it? I said "Absolutely Elvis, you got yourself a rhythm guitar player.
ECB: So you can say you´re handpicked by the king.
John Wilkinson: Yes, I was quite in demand at that time and had a real good reputation on Hollywood in the studios, because I played a lot of different styles.
ECB: I understand that you joined the band at a very young age. I believe you´re just 23 years old back then. How it was to be so young and already being a RCA record artist and playing with the major star of the moment?
John Wilkinson: Well, It was a bit overwhelming for me, to tell you the truth. I didn't expected my career to take such a huge jump when I was so young. The other guys in the band were all older than me, about four or five years, and here I'm standing next to legends such as James Burton, Jerry Scheff and Ronnie Tutt and I'm 23 years old. All my friends, in and out of the music business, would say "Johnny, you must be the luckiest guy on earth". My mother and father were so happy.
ECB: There's a special moment in the documentary/movie that's The Way It Is, when Elvis is playing "How The Web Was Oven" in the piano and You're watching him. You seemed to be admiring him and then you let go a great smile. What were your perceptions of Elvis, the artist, at that time?
John Wilkinson: Well, he was certainly very talented. He knew exactly what he wanted to hear, and I thought he was a fantastic singer. I never met anybody with a voice like his. I heard many wonderful singers, but I never heard anybody that could take a song and do an interpretation the way that he wanted to hear the song. Not many artists can do that, even today. They cover somebody else's record and they usually end up sounding just like the original, which is not what you want to (as a singer) in my opinion. But Elvis could take a song and instantly make his. Just the way he would sing, the way he would feel it. And make no mistake about it, Elvis had a lot, a lot of "feeling" in him.

Elvis pours his heart out on "How The Web Was Oven", much to Wilkinson´s delight.
ECB: Its so true John. One of these examples in my opinion is his performance of Unchained Melody. Even if this song was covered by so many artists, Elvis version is so emotional and peculiar, it is his own.
John Wilkinson: Yeah, he could not hide his emotions. I think a good example of this Sergio, is American Trilogy, which is a song written by a wonderful songwriter that unfortunately we lost not too long ago called Mickey Newbury.
The very first time I heard him do it, I broke down in tears. I do this song at my concerts, but I end sounding just like Mickey Newbury. Elvis took it, and it was Elvis Presley song. And there were many other songs that weren't his original songs, that somebody else did, every song he sang -even Hound Dog- he added "emotion" to it. He tried to capture the "feel" of what the song was about.
ECB: After doing so many concerts in Vegas, it seems Elvis lost its original spark. And we talked recently with Ronnie Tutt about Elvis trying to update his material in August 1974, putting great effort on it, and the mixed results it had, according to Elvis standards. He tried it again in March 1975, using much of the new material recorded in Hollywood some weeks earlier, as well some old and mostly underrated material of the 50´s and early 60´s. The overall results were better this time and the whole season was overall, great. But it was the last time he really tried to update his show.
Do you think that he felt disappointed with the overall results of these two efforts, or do you think that he just realized that most people would be happy to hear the same old songs over and over again?
John Wilkinson: Well, the first time that we actually ever did any new material, was when we were preparing to do the documentary That's The Way It is, and he liked a lot of those songs. But the audience reaction to him doing new songs wasn't what he expected, I think. It seems like the audience just wanted to hear him doing the old things, and that really wasn't fair to Elvis because he was constantly looking for ways to entertain his audience and he wanted to show then that he was more than Heartbreak Hotel and Hound Dog. That he could do other things. So I think he was upset about that. They did like what he was doing, but it wasn't the same reaction as when he was singing something like Burning Love, you know.
But he did talk many times to some fellows around him to go out and talk to some of the songwriters in Nashville and Memphis to get him new songs, because he wanted to release some new material. Sort of broadening his horizons, so to speak.
There was even some shows were he had a "all request show", where there was a box in which people would come in and write down the songs they wanted to hear and put in this box. This box would be brought to him and he would take out some of the requests. That was the only way he could think of to please his audience, and he lived for his audience, for his fans.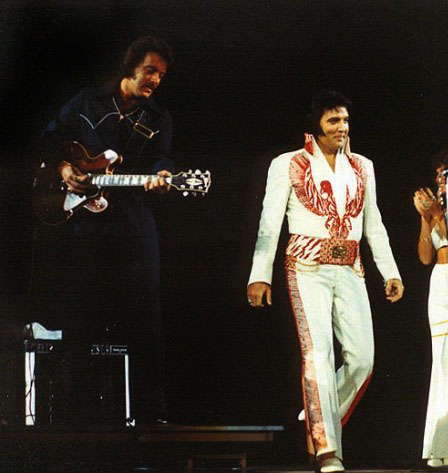 Elvis And John Wilkinson, in 1975
ECB: One of the great moments in Elvis later concerts was when you and he would be alone in the stage, playing Early Morning Rain. Could you tell us a little more about this moment and how the song was choose to be your solo number?
John Wilkinson: Sure. First of all, the song was written by a great Canadian songwriter called
Gordon Lightfoot .
We were at

RCA rehearsing for one of the Vegas shows, Elvis was taking

a break to take something to drink and eat. I was standing over a corner in the studio, just playing my guitar and softly singing "Early Morning Rain" -which was one of my favorite songs for a long time- and Elvis came back to the room and I didn't noticed that. He walked over and stood behind me, grabbed me in the shoulder and said: "John, what is that song?" and I told him it was "Early Morning Rain". He said "I like this song, lets do it!" So latter on, on the Elvis "Now" album, he recorded it.
Later on, on stage -You have to understand that Elvis Presley was one of the very few entertainers in the world that would acknowledge and introduce the members of his group on stage. He acknowledge that without us, would be no music- starting at Vegas, he would introduce The Imperials or J.D. Summer And The Stamps Quartet, and then he would move and introduce the Sweet Inspirations, and then Kathy Westmoreland. I was next in line and he walked right by me! He went right up to James Burton! He said: "From Shreveport Louisiana, on lead guitar, is James Burton. Play something James!" And of course James would work his magic on the Fender Telecaster as only he can do it. And then he would go introducing Ronnie, Jerry and Glen. At that night, I didn't think too much about it because I was just happy to be at the same stage as Elvis Presley. Later, I was at my room and Red West comes down from Elvis suit and said: "John, Elvis wanted me to tell you that he's sorry that he didn't introduced you. There's nothing personal, it's just that he haves so much in his mind right now, but he will introduce you". I told Red it was ok, that I didn't care, ´cause I was happy just to share the same stage with him and if he didnt like me, he wouldnt have hiring me.
And nothing else was said.
But at the very next night, he started the introductions and after introducing J.D. and the boys, the Sweets, Kathy… he came right in front of me and said: " On the rhythm guitar, from Springfield, Missouri, is Mr. John Wilkinson. John, play something." And I go…WHAT?? I'm not prepared to do this, pass me up!" And he said: "Son, you better playing me something, or you will be working for Wayne Newton tomorrow night." I said "no, no, I'll play something." And all I could think to play was to finger pickin Early Morning Rain, ´cause I knew it was a song he liked and for that point forward, that was what I would play when he introduced me.
Also, there were four or five different shows when he introduced me and I started to play the song and he would put the microphone right in front of me and say: "You sing it!" And I would have to play and singing it in front of thousands of people, in the hotel or out on the road, wherever it was…And he got a big kick out of that! He said one time: "Johnny, I didn't know that you could sing that good."
And that's how Early Morning Rain became my signature song as far as Elvis Presley is concerned.
ECB: Elvis material is somewhat criticized in the later years, especially because he didn't record many more rock songs. However, he made great contributions to other fields of music, like country, folk and pop. What you think about this change in his music, especially during the seventies?
John Wilkinson: Well, You had to know Elvis pretty well to understand that he really wanted to prove himself and prove to everybody in the world that he could do more than rock songs. And that's why he started to record things like My Boy, American Trilogy, My Way, with the big orchestra and chords you know…He would stay for hours at his bedroom at Graceland, working on his voice to make it stronger so he could do introduce these big, big songs. He told me that he wanted to get hold of some good up-tempo songs, but that he also wanted to so some of those big songs too. I said "Boss, you pick the song and we will play it."
Part 2
ECB: He was always looking for friendship and for people he could trust, right John?
John Wilkinson:
Yes. He told me once that he was glad I was his friend and that he could trust me for anything. I told him, that if he wanted to tell me something that he didn't want to go any further, it wouldn't go any further.And I always like to make this point: Remember that Elvis Presley was a human being. He wasn´t a God, angel or a saint…He was a human being. He would put the pants at one leg at time in the morning, just like everybody else. But I always tell the fans that he was not just my employer, he was also my friend; and when he died I felt like I lost a brother. It was a friend that I could thrust and he could thrust me.
ECB: Im sure that wherever he is, he is proud to hear that John.
John Wilkinson : Oh, I Know were He Is.
ECB: We all know, don't we?
John Wilkinson: He´s in heaven singing with Charlie, J.D and my dad
ECB:God bless then all.
John Wilkinson: That´s Right!:
ECB: Since we are talking about friendship John, In more recent pictures of events you attended, we always see you proudly wearing your TCB necklace. Could you share some memories of the day Elvis gave it to you?
John Wilkinson:
I wear it at a daily basis. The only time I take it out of my neck, since he gave it to me, is when I need to have it cleaned or repaired. Otherwise I use it 24 hours a day, seven days a week.The night he gave it to me, Elvis called us all to his dressing room, he have a sack of boxes with him and everybody got one TCB necklace, Ronnie, John, Glen…He took mine out of the box, put over my head and said: "Johnny, that is what I live by. I'm proud to have you with me. I'll TCB together, buddy." I said: "You got it boss!"
And that's how I got my TCB.
ECB: What are your recollections about the most special moments live or in studio with Elvis?
John Wilkinson:Live, when he was at his best. And im particulary referring to the Aloha From Hawaii. The show there, besides the performances "In That's The Way It Is", the Aloha show certainly haves to be the pinnacle of Elvis´ success. He was amazing. We didn't even know that we would go to Hawaii until two weeks before we have to leave! He called us from his suite and said; "Boys, we´re going to Hawaii, and we gonna do a TV Special and Colonel´s tells me that this is will go "live". And I said : "Oh My God…" He said "Yeah, this will gonna be live to something like…thirty seven countries, so we gotta do it right!" He was very excited about that.
And in the night when we did what is now called the Alternate Aloha, wich is the dress rehearsal, he looked so good, beautiful in that American Eagle suit. He came out and before the show, he was obviously neevours, he said to us: "Boy, this is the biggest show we ever done. This is gonna be the one boys. This will gonna make us, or break us" – He always refered to his shows as "our show", wich I think was a very nice gesture of his part.
When he entered the stage that night, the crownd went nuts…And the look on his face was priceless…He had a big smile on his face, I thought he would even cry! He knew that this was the biggest show that not only he ever done, but that nobody have ever done.
It was a great moment. He was trim, got himself into shape, suntanned and his voice was never stronger. But in the next day, someone gave us a copy of the San Francisco Chronicle, and the guy just panned Elvis badly. He said that Elvis looked terrible, his voice was no good, and I thought…"You Son of a bitch! (laughs) You´re not even there! And this happened quite often on the road, the critics wouldn't even got the name of the songs right. Mostly because Colonel´s would given then free tickets to the show, wich got then upset about and they did have to make up something.
But anyway, he never read the reviews. They wouldn't let him see it, afraid that he might get upset
ECB: Before we finish this interview, I would like to talk a bit more about the took boks that were done about you and your years with Elvis.
John Wilkinson: The first book was written by my European manager, Peter Verbrungg, the head of one of the biggest fans clubs in Europe, called "Elvis Matters" ( I.E. www.elvismatters.be). He´s a dear friend of mine, a wonderful Elvis fan and a "walkin talkin" encyclopedia about Elvis. He wrote the book and got some pictures and some documents and things that I have. I'm very proud of the book, and I think the fans seemed to like it too as it is almost sold out.
The newest book its called "My Life Before, During and After Elvis Presley". ( I.E: You can find John´s newest book at www.amazon.com). I was told by the guy that helped me write it, Nick Moretti, that the fan reaction to the book is really good, and some e-mails from some of the people who bought the book and they´re very positive comments. So I hope that other fans will acquire the book and add it to their collection and I think that it is a good companion book to go with the first book, ´cause it covers some areas of my life that the first one didn't. It covers quite a bit of my relationship with Elvis, wich I´m very proud and I think after you read it, you´ll be able to understand quite a bit more about Elvis.
I know that you´re birthday is coming so I want to wish you a very,very happy Birthday.
John Wilkinson:Oh thank you! You know what, I just decided to stop having birthdays. I'm going to take birthday control pills ( Laughs)
John, to wrap up this interview, could you send a message to all the fans in Brazil?
John Wilkinson: Sure. Pass along to the fans, all the dear friends and fans in Brazil all my love,
very best wishes and warmest personal regards. And I look forward to some day maybe getting invited to Brazil to come to perform to then. Let then know, that just like Elvis, we care about the fans. We really do. Also, let then know that Elvis was a good, decent man who loved his fans and though us all about the concept of love and friendship.
® 2006 Elvis Collectors Brasil. O conteúdo deste site, seus textos e imagens são de exclusividade do mesmo. Qualquer reprodução do seu conteúdo sem prévia autorização dos proprietários é proibida e consiste em falta de ética.

Home