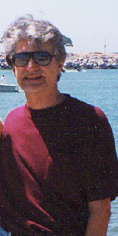 Joseph A. Tunzi is an acknowledged author and researcher of Elvis Presley music and life. A reputable authority in Elvis recordings, his three sessionography books about Presley's recording legacy, Sessions I, II and III are among the most praised works among the singer's hard-core community.
He is also author of many photo-book projects, as well DVDs like Hot shot and Cool Clips, that includes rare footage.
We had the distinct pleasure to conduct this interview with Mr. Tunzi, were he shared some very interesting information about unheard songs, unseen footage, rumors, the never ending quest for anything unreleased of Elvis and what the future holds in store for us. We hope you enjoy read it.
I-Unreleased songs, soundboards, rehearsals and The "Rumor Mill"
ECB: Joseph, there are many soundboards from Elvis tour in June 1975, and mostly likely, all the concerts of this gig were recorded. Yet, there are no soundboards from the July tour. Doesn't seem strange that if they were recording all the shows from the previous tour, they would do the same with the July one? Maybe the soundboards are with private collectors that don't want to share their tapes and information?
Joseph Tunzi: Yes it would be strange that if soundboards were recorded in June then why not July? But not impossible and many things could explain this. My feeling however is that shows were recorded in July and that on at least more then one occasion, there was enough information given to us from very reliable sources that these shows were indeed recorded.
ECB: You list Ashville 75 as an incomplete soundboard in sessions III. Is this in private hands and if so, what is the quality of the sound?
Joseph Tunzi: Asheville 75 would be considered incomplete and is believed to be in private hands.
ECB: You think we should "give up" in a sense, that we will ever find a soundboard from Pittsburgh 1976?
Joseph Tunzi: I don't think you can give up on a Pittsburgh soundboard at all. Not until all of soundboards can be accounted for. People must realize that many people took a lot of tapes regarding soundboards. One engineer this night, Felton Jarvis another night, a lucky fan another night and more people on occasions too numerous to mention.
ECB: Do you believe that maybe safety copies of the 50´s tapes destroyed by RCA may exist in private collections?
Joseph Tunzi: I don't believe there are safety copies of tapes from the 50´s. We can guess all day long on what happened to these tapes, but unfortunately they were most likely recorded over or thrown away when RCA cleaned house.
ECB: What about the rumored song Uncle Pen?
Joseph Tunzi: He may have done this live but I don't believe Uncle Pen ever existed in any form.
ECB: Elvis gave many radio performances in the 50´s. Do you think that maybe some radio stations may have acetates of this performances that they don't even are aware of?
Joseph Tunzi: This is a great question because if there is hope for 50s recordings it could lie in the hands of some of those old radio station archives. Or with some old program directors that worked there. This demands some tedious research.
ECB: On the Rumor Mill section of Sessions III you said that "It's been rumored that a previously unknown ballad from the sixties or seventies has been located as well. This could be a home recording". Is there any more information about this, after the release of Sessions III?
Joseph Tunzi: This recording and the information that we recently obtained turned out to be a home recording that we listed. Only this recording is in better quality of "Let Me Be The One"...this was definitely recorded and is great.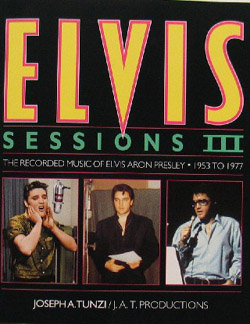 Joseph Tunzi´s Sessions III
ECB: During the Stax sessions in 1973, Elvis tried many times the song "We Had It All". Supposedly after some work, he gave up saying that he could improve on it. Ernst said that he haves all the tapes and that there's no such recording. However, he describes the dialog from Elvis on his book A life In Music. You think you can assume that at some point, this performance was heard by Ernst?
Joseph Tunzi: I can't speak for Ernst, he leads you to believe that in his story but again, he is trying to tell a story so what else can he do...If he had it, I think he would have used any of it by now.
ECB: You also said that "More than a rumor, though not listed in our main section, is a tape of tom Jones and Elvis recording together, It's likely that this was recorded in Los Angeles and included the song "With These Hands" Could you share more information, please?
Joseph Tunzi: According to photographer Peter Borsari he remembered Elvis and Tom Jones singing "With These Hands" together. Tom Jones admits that footage of Elvis and him jamming was shot by either Joe Esposito or Priscilla, but Priscilla can't find the film. This is what he was talking about .
ECB: The eternal debate about feelings: Its safe to say that Elvis did tried the song many times during the Graceland Sessions. However, the song was never heard on tape. Do you believe it was recorded and if so, could that be on the microcassete tapes from David Briggs? (Luiz Henrique Costa Gonçalves)
Joseph Tunzi: If Feelings exist and RCA contacted Morris Albert, the wires are crossed somewhere... Feelings was run down on February 8 and it may be included on the David Briggs micro cassettes but it most definitely was not recorded professionally. It could also have been erased like America the Beautiful.
ECB: On page 554 there's what seems to be a list documenting several tapes ranging from 1971 to 77 and among then, a 05/16/1974 rehearsal at rca studios. Is this list a document from the RCA vaults?
Joseph Tunzi: This is a document that came from Joan Deary...the rehearsal is from 8/16/74..and all tapes are contained in the RCA archives.
ECB: Can you give us more information about the songs Stormy Monday Blues, Out Of Left Field and It Will Be Me, supposedly from late 1976?
Joseph Tunzi: This is interesting and through more research since Sessions III, it is my belief that Elvis was seriously considering recording these songs during the February Graceland sessions. Back in 1976 RCA sales reps touting that these songs would be included on his new Album this was 3 out of 10 tracks that I remember the other 4 or 5 were also unfamiliar tracks and some were obviously recorded but the mystery is getting solved.
ECB: Do you think a tape exists or once existed of the jam sessions between Elvis and The Beatles? (Evandro Posser)
Joseph Tunzi: No tape of Elvis and the Beatles exist. It's a fact that both managers agreed to not allow photos and/or recordings of their visit in Belair.
ECB: You published a very, very interesting list of rehearsal tapes on Sessions III. How did you acquired such information and did any new information regarding those tapes surfaced after the publishing of the book?
Joseph Tunzi: This information was adapted from several sources but the main source was from the Col Parker collection which now is housed at the estate.
ECB: Have you ever listened to one of these tapes and if so, which did you find most amazing? Does BMG and Ernst already own some of these tapes? ( Renan Ruiz)
Joseph Tunzi: A few of these rehearsal tapes are believed to exist in private hands. This is what these people have told me I would think they are not lying.
ECB: During the filming of G.I. Blues, is rumored that the Brazilian president met Elvis on the set. We tried to find information about this here in our local press, but all that was published is very little and offers no documentation. Have you ever come across this information or possible, a picture?
Joseph Tunzi: No I haven't but I would assume this is true. Your best bet on this would be to supply a picture of the president to the estate they can search there archives. They have many shots from G I blues with celebrities.
ECB: Do you believe that there are any pictures of the studio sessions from Stax, 1973 and Graceland 1976?
Joseph Tunzi: Yes there are photos from February 76 including the setting up of the "Jungle Room" to make it into a studio. The problem is the individual who has them will not for any reason relinquish them. Elvis said to him personally "you can take a few of these photos but you must never publish them. You have to give me Your word"...this is what this individual told me...he will honor his wishes...believe me, I tried.
ECB: Judging by what you know that is the hands of private collectors and on the vaults of BMG/SONY, do you think that there's still something that could blew the fans mind, be it footage, photographs or audio?
Joseph Tunzi: Of course! There´s Still plenty of "Elvis On Tour" outtakes, February 76 Graceland session photos, SACD ( Super Audio CD) of Madison Square Garden evening show.
II-Home Movies, Professional And Amateur Footage
ECB: Do You think that maybe some television stations have professional footage of some Elvis concerts from the seventies?
Joseph Tunzi: Most definitely. We will use some on Hot Shots Cool Clips Vol 2
ECB: The recently "leaked" footage from That's The Way It Is contained an incomplete performance of The Next Step Is Love, witch was not listed on Sessions III. Do You believe that the complete footage is in the Turner vaults? ( Fernando Souza)
It was actually a surprise to hear that a portion of this exist, but I can't answer more than that.
ECB: We have quite a bit of 8mm home movies from the 60s and some from the 50´s as well, yet none from the 70´s. Do you believe that there are more home movies that we are not aware of? It wouldn't be to far fetched to believe Joe or other member of the mafia or family kept making this movies, especially in festivities like Christmas, birthdays, etc.
Joseph Tunzi: Home movies of the 70s are few and far between but quite frankly I think Elvis kept his guard up on this happening.
ECB: In some of the 60´s home movies, we see Priscilla holding another 8mm camera. Can we believe that there are more home movies from this period that are yet to see the light?
Joseph Tunzi: I can honestly tell you that a lot of 8mm footage is out there, some which is mind blowing to the hardcore fan
ECB: And The Pied Piper Of Cleveland? This must be the most elusive footage ever
Joseph Tunzi: The pied piper film is really the rock and roll holy grail...many researchers have failed in there quest to find it, but new evidence has given new hope...Maybe someday.
ECB: What About Only You? Was it recorded? ( Ana Clara Camargo)
Joseph Tunzi: You know I listed "Only You" due to the fact that Elvis sang it during some of his Hayride performances , I never mentioned that it was recorded but that the chance it was can´t be over looked. With some luck, this still may turn up someday. We know the time the year and the show and somewhere there might be a tape.
III-Elvis Starring In Oklahoma, Hot Shots And Cool Clips Vol 2, And Future Projects
ECB: Joseph, could you tell us about you latest project, the book Starring In Oklahoma? What can we expect of it?
Joseph Tunzi: Elvis Starring In Oklahoma is a book that takes you center stage at the opening show of his new tour in Oklahoma city Oklahoma.You will get over 90 unpublished photos from hall of fame photographer George Wilson.I think its a must have for any serious fan. (ECB: You can order direct from JAT Publishing website at www.jatpublishing.com, or clicking the banner bellow)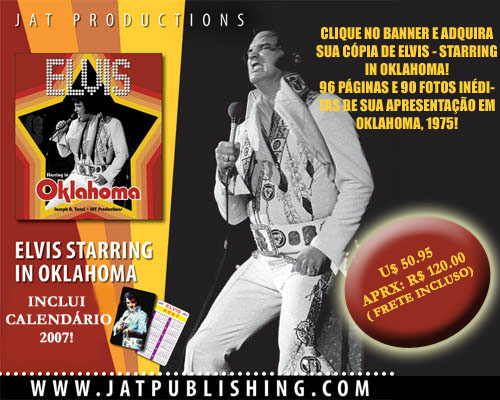 ECB: What can we expect for Hot Shots And Cool Clips Vol 2? Will it include professional footage of Madison Square Garden,? If so, who took this footage? (Laerte)
Joseph Tunzi: Hot Shots and Cool Clips 2 will feature color MSG, AWESOME FOOTAGE of Jaycees award presentations, Col Parkers birthday party during Roustabout,the first known color footage of Graceland plus much more. Hot Shots And Cool Clips Will Be available April 1.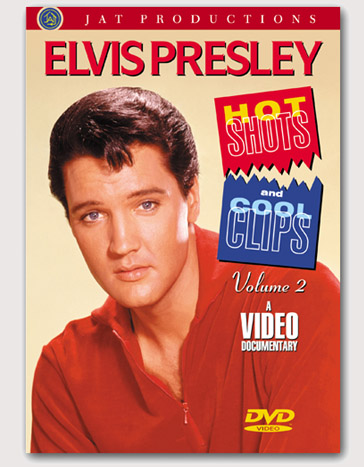 Hot Shots And Cool Clips Vol 2
ECB: What kind of project you are holding in store for the next few years?
Joseph Tunzi: We will release without question our Ultimate full color book, Coming soon will be Elvis Presley- Tickle Me...and hopefully a real cool 50s project
ECB: Do you think that a project of 8mm footage with restored image and matching sound (when available) could ever saw the light of the day, via FTD, for example?
Joseph Tunzi: I can't speak for FTD but I don't think FTD would ever release amateur footage with matching sound as a full release...a bonus track here and there wouldn't be a bad idea...if it's good
ECB: Last, but no least:Almost 30 years have gone since Elvis left the building and many things happened since then, regarding his legacy. His music was reviewed, reorganized and re-issued countless times. A great deal of new material emerged and released. What do you think will be the future for Elvis Presley? What will/should be done to maintain Elvis is the spotlight for more years to come? ( Douglas Hartung)
Joseph Tunzi: The future of Elvis Presley depends on 3 things: Number1: the Estate. Number 2: The record label. Number 3:The fans. The latter being the most important.
I believe that there is a rejuvenation that may be happening in collecting Elvis as he was in his lifetime. e-Bay is key in offering almost any thing to the Elvis fan. I have to tell you I really aint interested in the next ftd as much as trying to find a few more rare pieces of vinyl, or studio or live outtakes, or unpublished photos.. this is what will keep it going. The fact that there may always be something out there that will make news, and make it fun. The Elvis mystery , will keep it alive.
In the name of all the fans in Brazil, we would like to thank Mr. Tunzi for taking the time to answer our questions.