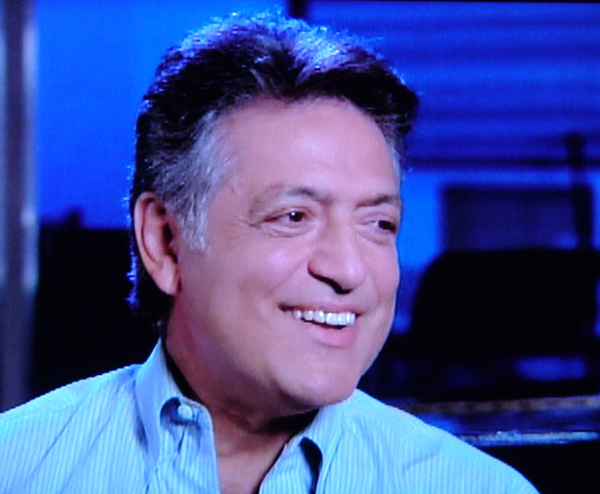 Joe Moscheo is one of the original singers of the Imperials, the "multi-award" gospel group that provided backing for Elvis Presley in some of his greatest gospel recordings and live appearances between those magical years of 1969-1971. Joe, who is a recognized artist recently inducted into the Gospel Hall Of Fame, also co-produced one of the best Elvis documentaries, He Touched Me: The Gospel Music Of Elvis Presley and recently released the book The Gospel Side Of Elvis. In this exclusive interview for Elvis Collectors Brasil, Joe Moscheo talked about his career and his work with Elvis Presley.
Elvis Collectors Brasil: To start this interview, please tell us about yourself. Where you were born and how did you got involved with gospel music.
Joe Moscheo: Im from upstate New York, just north of New York City. My family is Italian, they came over from Sicily and I was born in New York. I was raised on a Christian home and when I went to college, I began to play the piano for a gospel quartet. This was my first introduction to gospel music. Then I joined several groups that were singing on a full-time basis, so I quitted college to go on the road with those professional gospel groups. I joined the Imperials in 1964 and when I joined them, one of the first things we were doing was some sessions for RCA. It was at that time that Elvis came to do a gospel album in Nashville and I began my relationship with Elvis at that time. Then in 1969, when he was opening in Vegas, he invited the Imperials to be his backing group and of course we said yes.
ECB: Please, tell us about the background of The Imperials. How the group was formed?
JM: In the United States gospel music is very popular and there are hundreds of gospel singing groups. There are quartets and trios, some of which we call "mixed", formed with male and female singers, there are family groups…all kind of groups. In the fifties there was a group singing in Texas, on a radio show, and it was sponsored by the Imperial Sugar Company. When the quartet would sing, they would say "Here they are, the singers brought to you by the Imperial Sugar Company". After a while, they just call them the Imperial Quartet. In 1964 when Jake Hess formed the new Imperials in Nashville, he called them Jake Hess and The Imperials. Jake Hess was one of Elvis favorite singers from the Statesman. He knew Jake very well and loved to hear him singing.
Jake formed this new group, The Imperials, in 1964, and he picked all of us to be in his group and then he became ill and had to leave the group. When he left the group, that's when we went on with Elvis in 1969.
ECB: The Imperials won many awards since it was formed. Among then,4 Grammy Awards and 13 Dove awards. What you think that makes the Imperials such a successful and recognized gospel influence?
JM: We have been very fortunate that people love our music and our sound. I think that even today, we are much older, but as a group we have a sound that is very solid and different. As individuals is not so exciting but as a group, its very good. It seems that we have been successful in this way. Our arrangements, the blending of the voices, the way we perform on stage…there are a lot of facts, but I think that the fact that the group has such an unique sound, and its so solid as a backing group when we are singing to some other singer, is the most important one. Elvis used to call us the "wall of sound" behind him. That's a very important thing and we are very proud of it. We have many awards because of this and we are very, very fortunate and thankful for that.
ECB: Undoubtedly because of the great talent of the group, Elvis wanted them to perform live with him. How you guys received the invitation to join him in his upcoming concerts?
JM: It was in 1969 when we were going to Las Vegas, to the International Hotel. We received a call from Colonel Parker's office, from Colonel Parker's assistant, Tom Diskin. And he said that Elvis was going to appear in Las Vegas for one month and he would like us to do the background vocal. We were very, very flattered and of course very surprised. But we found out that Elvis first asked for the Jordanaires, but the Jordanaires weren't able to go, because they were already booked to many recording sessions in Nashville. So then Elvis asked us to come. I think there was some kind of misunderstanding, that the Jordanaires thought that maybe Elvis was only doing this for one time and they didn't realize that he would do it again, and again and again.
We said "yes, we will do it", and it changed our lives and opened so many doors for us. Even today we still enjoy some of the benefits from this time with Elvis. It was a very important time in our careers.
ECB: What are your recollections of those concerts?
JM: Oh my God, it hard to even explain. I remember a lot of things. I remember the rehearsals with Elvis…but the biggest memory is the opening night. Its one thing to have a rehearsal and to be on stage when you're just putting the show together, organizing everything. But an opening night, when the curtain goes out and all the people are in the audience and you watch the reaction of the people when Elvis walks on stage...To see how thrilling and important he was…His image, and his charisma and everything about him was so electrifying that we were caught up in the same thing. When he walked on stage we were all so mesmerized by him, that we almost forgot to sing! We were so excited, it was such a thrill. Every night when he walked on stage and the music started to play and he looked at us and winked, it was like a dream. It is a wonderful memory that I will never forget.
ECB: In 1970, MGM was shooting a documentary of his appearances in Vegas. The documentary became to be known as Elvis: That´s The Way It Is. How it was like to be part of the film?
JM: It was easy for us, but I think it was more difficult to Elvis because there was a film crew there and they wanted certain things. It was almost like they were interrupting the show with all the cameras and the way they wanted things. We did two shows a night, what they call "Dinner Show" and "Midnight Show" and they had the cameras rolling. When they missed something on the first show they would get it on the next show and they would ask Elvis to do a certain song or to use a certain jumpsuit because they needed some more footage of some ones in special. It was a very exciting time and it was not so difficult for us, but maybe a little stressful for him. Now that we look at the film and realize what they were doing, most of the time we didn't even know that the cameras were on us. It was a great documentary and it's great to be a part of that history.
Joe Moscheo rehearsing with The Imperials and The Sweets,
During the shooting of Elvis: Thats The Way It Is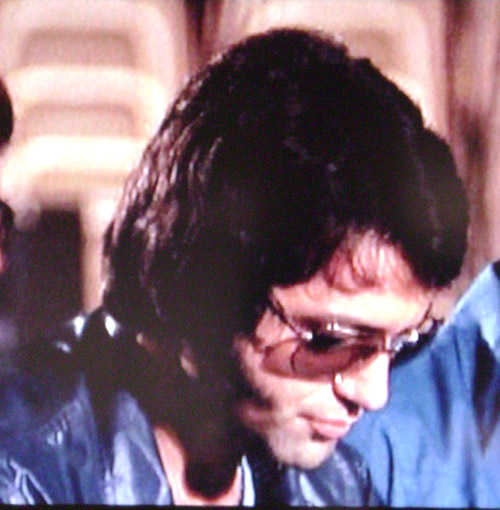 ECB: In this movie, there is some great footage of the rehearsals for the upcoming concerts. In these segments, especially during the rehearsal of Bridge Over Troubled Waters, Elvis appears directing the backup vocalist as to how he wants a certain passage of the song. How much did he collaborate to the arrangements of the songs?
JM: He did that in a lot of songs. He already in his mind knew what he wanted to hear and sometimes, when he wasn't hearing what he wanted, he would look over, motion with his hand, and sing our part the way he wanted to hear it. He wasn't educated in music, but he had a wonderful feeling for the music and for the interpretation of the song. He knew exactly what he wanted to hear. Of course, we always wanted to please him and do what he wanted us to do, and the results at the end were always fantastic. The arrangements and the way that he sings, even if it was done before by other artists, once Elvis would sing the song, then you forget about the other artists and you only consider that Elvis sung it and that's the way it should be.
ECB: In 1971, you worked with him in the studio in Nashville. Those sessions gave birth to some of his best material, most notable, the gospel songs that lately were released in the "He Touched Me" album that won a Grammy. What was like to work with him on studio and what are your memories of those sessions?
JM: The He Touched Me album was a very important album for us. The songs that were on that album were songs that we had previously recorded on an Imperials album. Elvis would listen to our music. He was a student. He listened, and he learned, he knew everyones voice and all the arrangements, every part. We would sing these songs with him when we were up in the suite. So, when it was time for him to record another gospel album, it was very easy because he knew all the songs. I played the piano on A Thing Called Love. He just loved to sing with a quartet, he was very comfortable there. He loved these songs, we loved the rehearsals with him and he wanted to sing as part of our group. We did all the arrangements for six or seven of those songs. Those were songs of our album, almost the same thing but with Elvis voice in it. This was very important for us, a wonderful experience and we had such a great time doing it. He was familiar with the songs, he loved the music and so the sessions went on very easy.
Elvis didn't have lot o patience in the sessions. If he didn't liked the song, if it wasn't going well with the musicians or if was taking too long, he would lose interest and would go to something else. But when we did the He Touched Me album, it was very enjoyable.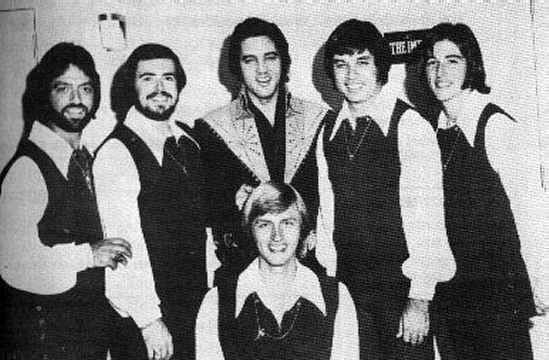 Elvis With The Imperials. Joe Moscheo is at the far left. February 1971.
ECB: By that time, he already had made some wonderful gospel records, among then the Grammy Winners albums His Hand In Mine and How Great Thou Art. How the gospel community saw the fact of him singing sacred songs, since he was a Rock And Roll Singer?
JM: I think it was mixed, you know. In the beginning, when Elvis first came on the scene, the churches didn't like his music, they didn't like the way he looked, and they though that he had the wrong image for the church people. As a matter of fact, some churches would preach against him. But as his career progressed, and his gospel music came out, they found out that he was very sincere about his gospel music. I think in the end, he is of course a rock singer, the "king of rock and roll", but I also think that his gospel music was very important.
Now that all of the churches and all of the Christian people have been raised on this music, they know how important it is. His songs are from his heart and I think that because they go from his heart to your heart, it makes his music very important. So, I think that times have changed.
ECB: Gospel Music was always a part of his life. He often used it to relax and get his mind at ease. There are many stories about late night gospel sessions on his hotel suite after the shows. Do you have many memories of those occasions?
JM: Many, many memories. That probably is one of the most precious memories that we have, because those were times when he was very relaxed, he was doing something he enjoyed to do. He was not "Elvis, The Superstar", he was just "Elvis, The Friend" and we would stand around with some other friends and we would play the piano singing gospel music. He never wanted to sing any of his hits or any pop and rock and roll, he wanted to sing gospel. We would do it and we would sing one song after another for two or three hours, maybe four hours sometimes. If he had some of his friends there, he would say to them "Listen, listen" "Listen to the harmony, how much you can feel the music", "Listen how it touches your heart". He loved it and those were some of my best memories of those times.
ECB: Its no secret that Elvis was a deeply religious person. He often wondered about the good fortune and talent that God gave him, and often he had long conversations about those subjects with people that he felt a connection with. Do you recall having this kind of conversations with him?
JM: Yes, there were a lot of those conversations. He was a very curious person. The religion that his mother taught him was very important to him. But everybody was bringing him other ideas and other religions to him, to investigate. So we had a lot of talks about religion and he would always come back to his basic religion, the one that he was brought up, in the church that his mother taught him.
He was very humble; he never realized how great he was and how important he was. I think he new he was a superstar and knew that he had a job to do and that was to be a superstar. When he walked on stage he was "Elvis, The Superstar", but when he came off the stage, to be with his friends, he wanted to be "Elvis Presley, the boy from Tupelo". He of course enjoyed all the success, but he also enjoyed being a normal person, with his friends. He wanted to be that normal guy that wants to listen to some music, to sit around and have some fun, tell a joke or watch a football game.
I liked that so much about him, because he could go from being this regular guy to the superstar when he walked on stage.
ECB: How much you think gospel music influenced his singing style and the way that he sang a song?
JM: Its been said many times, that his style was a mixture of gospel and rhythm and blues. Because he was born in the South, he had all those kind of influences. Memphis was the home of the blues and he listened to a lot of gospel music and even listened to some opera. You can tell sometimes when he is singing, his voice would be very powerful and his range was incredible. He could sing in a high or low register.
He had a lot of influences from the outside, but I think gospel music was very, very, influential. He got a lot of the style and phrasing, a lot of the moves, the way he dressed and the way he combed his hair because of some of the gospel groups. They wore those flashy suits; they had their hair slicked back, you know, it was very influential to him.
But he brought a new way of doing it; he created a whole style, a whole fashion and a whole style of music. He owned it. It became his. I think he made it better than it was.
ECB: Later, in 1972, the Imperials left Elvis. What happened?
JM: There was a little disagreement with Colonel Parker and his office, because when we went to work for Elvis, we didn't ask for too much money, we didn't want them to think that we were asking for too much money and then they would say no. Later, we asked for a raise and for some other things, some benefits, but the Colonel wouldn't give it for us. We said to him that if we didn't get those things, then next time we have to go to Vegas, we wouldn't go.
The Colonel didn't tell Elvis, until Elvis called us one day and said "What's going on? I understand that you're not coming to Vegas in January." I said "No we're not. We can't do it anymore". He was disappointed but he couldn't do anything about it, because he had an agreement with the Colonel, the Colonel would take care of the 'business', and EP would take care of the 'stage, and the music'.
So, we recommended the Stamps, because they were good friends of ours. It was between the Stamps and the Oak Ridge Boys. J.D. Sumner wanted to do it, and EP remembered JD from the Blackwood Brothers, so Elvis took the Stamps.
ECB: After the Imperials left, did you and the other guys kept in touch with Elvis?
JM: I kept in touch with him quite a bit. I don't think the other guys did as much as I did, but I was good friends with him and Priscilla and the family, and I kept in touch. He was always very cordial, very kind. I think we remained friends until the end.
What was the last time you saw him?
JM: It was in Huntsville, Alabama, May of '75, He was doing a concert there and I wanted to see him. I took a Bible with me and I wanted to give him this Bible. I was thinking about it, because he wasn't feeling so good and wasn't looking so good. I wanted to talk to him and tell him that I was very concerned… I said to him " Quit looking in every direction for an answer. All of the answers you need are in this Bible. You should read it sometime, and pay attention to it." We hugged, and I left him. And that was the last time I saw him.
ECB: Do you remember the day when you heard that he had died?
JM: Oh yes. I was working for a big company, BMI, in Nashville. I got a call from a reporter at our local newspaper, he was a friend of mine, and he told me that it just came across the wire that Elvis Presley had died. My God, I couldn't believe it. So I called Priscilla in California and she said that she was getting on 'the plane' at that time to go to Memphis and she asked me to come down to Memphis and meet her there for the funeral. I said "Of course". So I jumped in my car and drove to Memphis, from Nashville.
ECB: What do you think about the Elvis after death phenomenon? Isn't it intriguing how he keeps attracting young people with his songs and how his fan base keeps buying everything with his name on?
JM: There´s a lot of theories about this.
You know, The Imperials are traveling around the world, doing a lot of events, fan club events, we do a lot of things with Graceland in January and August . For the 20th anniversary we all got together in Memphis at the Midsouth, then in the 25th anniversary we were together at the Pyramid. But in between we did a lot of dates around the world, the big screen concert went around the world and we were a part of that. It's amazing to me that so many people still remember Elvis and are still interested in him. I think it gives all of us an opportunity to continue his legacy, to continue to draw attention to the fact of what a great artist he was and what a great man he was. On a spiritual level, for The Imperials, this as opportunity to sing gospel music to a secular audience. This is something that I feel we are supposed to do. We are singing our music; we are singing gospel songs and we are bringing the message to the people, encouraging people and making people feel good about themselves. And I think that this was what Elvis would want us to do. It is our responsibility to carry it on, in his name. He opened these doors and so we should walk thru these doors and take advantage of it. We feel the responsibility to do that.
I think it's incredible that his life is still in people's minds and his music is all over the world, on the radio, on television, on satellite and movies… In the hearts of the people, he hasn't even died; he is alive in their hearts. We are like his disciples, going out and preaching his gospel wherever we go and I think this is very important and we are very thankful for this opportunity.
ECB: You also starred in the "Elvis The Concert" shows. I was there at the Concert of the 30th Anniversary and it was amazing. What was like to sing again with him, after 30 years of his passing?
JM: We have been doing this for ten years, since the 20th anniversary. The big screen concert is a lot of fun to be part of, because we love the music, we love to see him looking so good. Only that we all aged and Elvis stays the same (laughs). He still so strong and so handsome, his music is so much alive, you know. It seems that you can't get enough of it, no matter how many times you sing these songs, its still new and fresh in our minds. It's a wonderful thing.
ECB: You co-produced the acclaimed Special 'He Touched Me': The Gospel Music Of Elvis Presley. I think we can say that the documentary is the definitive one about his love for gospel music. Now, you´re releasing a new book, The Gospel Side Of Elvis. Does the book work as a complement of the audiovisual documentary?
JM: Yes, it does. I used the documentary a lot, as a guide line to write the book. I thought it was important to put in writing and give my side of how I felt about it, how I related to all of this, and to express myself, just how important gospel music was to him.
I think that other people, maybe Gordon Stoker of the Jordanaires should have written something, or maybe J.D. if he was alive, but nobody seemed to be interested enough to put it on paper. So I took the opportunity to do that and I'm so happy that I did.
My book was very important in 2007. It was the best selling 'Elvis' book in the market. It reached a lot of people and I'm very, very thankful. I'm going to do a book signing tour in Europe in March, and going to several different countries… I wish I could come to Brazil sometime.
The Gospel Side Of Elvis - By Joe Moscheo.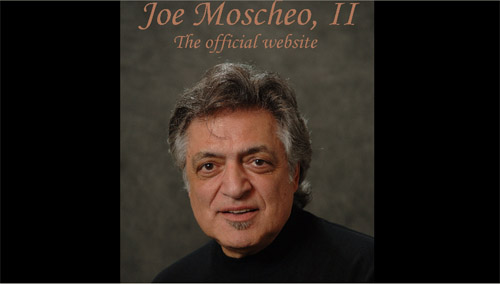 Joe Moscheo Official Website. Click To Enter.
ECB: The Imperials are back again with You, Sherman Andrus and Terry Blackwood reunited again. How does it feel to enjoy such an enduring and rewarding career?
JM: We have been together for a long time. I have been with Terry since 1970, and Sherman came in 1972. We are really good friends, our background are similar and we enjoy being together. We never had an argument. We are very close to each other.
But the most important thing is that when we are on stage, everything fits. It seems like that this is the way it was supposed to be. We love to be together and sing together and the people seem to enjoy it.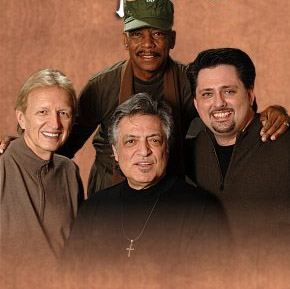 The Imperials In Its current formation.
From Left to right: Terry Blackwood, Joe Moscheo, Sherman Andrus (Center top) and Gus Gaches.
Photo Courtesy of www.theimperials.us
ECB: You were recently inducted to the Gospel Hall Of Fame, how do you feel about it?
JM: Wow! You know, The Imperials were inducted in the Hall of fame, as a group in 1998. And I have been inducted this past year, an individual, for my contribution to the gospel music industry, because I have been a volunteer and on the board of Gospel Music Association for over 35 years. It was a surprise to me, to be recognized, and it was such an honor.
I feel like that I had given my life to gospel music, to always be an example and to try to bring gospel music to as many people around the world as I can. To finally be recognized by our peers, it's a wonderful, wonderful thing and I was totally honored and surprised. I had my whole family with me; it was a wonderful occasion and Im very happy that they did that for me.
Sometimes I say that maybe my doctor told them that I'm going to die, so they give me an award (laughs)
ECB: To finish this interview, what are you doing now and what are your plans for the future?
JM: I'll be 71 years old. I'm not an old man, but I feel its time for me to slow down a little bit. I had a job with a big company, an International company, for the past six years. But at the end of this year I'll be retiring from this job…. I'm going to continue to sing with the Imperials. We are going to travel a lot next year as we have many, many dates in Europe and around the world.
I'm writing another book, not about Elvis, and I have some other projects that I'm working on.
I love to paint, so I'm doing a lot of painting this year and I plan to spend more time with my family in Italy. I want to go back to Sicily, the home place. Spend maybe one or two months over there, this coming year. I'll continue doing the things I love to do, and visit with the fans…
The Elvis Collectors Brasil website wants to thank Joe Moscheo for this interview and wish him the best of luck in his future projects.
Taped by Sergio Biston on December 2007
Transcribed By Sergio Biston
Tranlasted To Portuguese Language By Sergio Biston and Luiz Henrique C.Gonçalves.

Home
® 2007 Elvis Collectors Brasil. O conteúdo deste site, seus textos e imagens são de exclusividade do mesmo. Qualquer reprodução do seu conteúdo sem prévia autorização dos proprietários é proibida e consiste em falta ética.