Ernst Jorgensen, together with Roger Semon is one the most important persons keeping the Elvis legacy alive. Not only he is one of the producers of such celebrated releases as "Platinum- A Life In Music", the boxsets "The King Of Rock ´n´Roll - The Complete 50´s Masters", "From Nashville To Memphis - The Essential 60´s Masters" and "Walk A Mile In My Shoes - The Essential 70´s Masters" but he was also the guy behind amazing finds that included songs, jam sessions, and outtakes never before heard. He is of course also one of the creators of the wonderful FTD label, another project that was only possible because of his and Semon´s determination and love for Elvis music. Elvis Collectors Brasil is very proud to present you this interview with Ernst, were he answered some of your questions about FTD and future projects. We hope you enjoy it.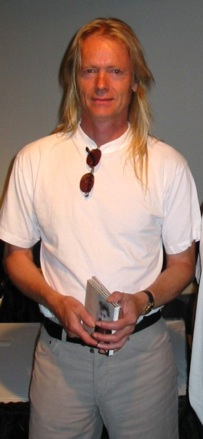 ® Piers Beagley. Photo Courtesy Of Elvis Information Network.
Elvis Collectors Brasil:The releases from the early nineties, like the five CD box set King Of Rock ´N´Roll as well the 60´s and the 70´s sets helped to reestablish Elvis image as a driven force in the music. They all were critic and public success and it became part of a reorganization of Elvis catalog that helped his artistry to be much better displayed. How do you think the general public and the critic perceive his legacy today?
Ernst Jorgensen: I think Elvis as generally accepted for his true achievements, as opposed to the National Enquirer ridicule that he was subject to when we started. I think Peter Guralnick's books helped a lot as well.
ECB: During the late 80´s and early 90´s we are introduced to the wonderful Essential Elvis series that give us long waited material for the first time. In some way, was the essential Elvis series an early "concept" for the FTD Label?
EJ: Good point - we didn't see it that way in the beginning, but as sales of the series started to drop, we had to find another we of releasing rarities material.
ECB: The FTD label is undoubtedly the best thing that happened to fans in the past decades. I consider the label a luxury that very few other artists/recording labels can offer to the fans. So could you please tell us how the label started, where it is right now and how you see the future of the label?
EJ: Well it started in 1998 - it took Roger and me several years to get BMG management to give the green light. I think that the label has created it's own solid niche, and I expect it to continues along these lines for many more years.
ECB: What is the best selling FTD title so far?
EJ: Jungle Room Sessions
ECB: What about the project for a FTD website? What happened to the idea?
EJ: The problem is time. Both Roger and I are terribly busy, but we are working on the idea at this time.
ECB: One of the most talked about possibilities for the FTD label is to release DVD material. Some projects like the ones from Bud Glass Productions, that uses top quality remastered amateur footage seems to be very popular with the fans and with the possibility of added matching sound when available, it could make a fine and desirable product.
There's also the possibility to release Elvis in Concert in this format, as the FTD label seems to be the perfect venue to distribute this material directly to the fans, instead of going thru the general public and all the fuzz the media could do. We know that working with footage is a whole lot more expensive, but is there any chance that this may happen in the future?
EJ: We don't have any rights to visual materials - they belong to EPE and the various owners of the movies. We will be happy to do such projects, but it can only happen if EPE supports the idea.
ECB: In my opinion, one of the best ever releases from the FTD label was the book/CD project Rocking Across Texas. Such a wealth amount of pictures, stories and memorabilia make this book a dream for any serious fan. Is there any chance we could see a similar project dealing with his touring years of the 70´s?
EJ: There are a few in the making, the first one being a book about Elvis' time at Sun. A bigger project about the seventies is at an early planning stage, and definitely won't be ready until next year.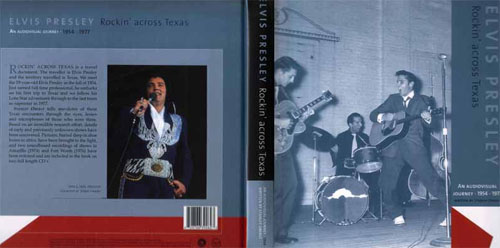 Rocking Across Texas - from FTD
ECB: The Classic album series seems to be a huge success with the fan base. One of my favorites is the Today album. The only flaw on this project, in my opinion, is that it contained material already on 6363 Boulevard and left behind the remaining unreleased takes from this session, being they:
Green Green Grass Of Home take 4,
And I Love You So take 4,
Susan When She Tried takes 4 and 5
T-R-O-U-B-L-E takes 2 and 3.
Why the decision to not include this remaining takes but material already available?
EJ: The idea of the classic albums is to combine ALL previously released material on the set. Then we add whatever is good from the unreleased outtakes - not everything.
ECB: What will be the next classic albums? Could you at least give us and indication from what period it would be?
EJ: There will be an announcement in the next few days.
ECB: You once said in an interview to "For Elvis CD Collectors Only" website that in the future FTD would release a CD Box. Any comments you could do about this project? What type of material it would contain?
EJ: We are working on several ideas, and a box of the best bootlegs is one of the favorites
ECB: One of the most desired projects by the fans are the long waited Nashville 71 sessions CD. Is there any chance we could hear it in the near future? (Douglas Hartung)
EJ: We will release Nashville '71 outtakes, but it's not one of the next releases.
ECB: Another much wanted project is more material from the Stax Sessions of 1973, something like a sequel to Rhythm & Country as much as Nashville Marathon is to Essential Vol 4. Is there enough interesting material to do such a CD?
EJ: Remember there are 3 Classic albums to be dealt with - and that is how we are going to release the remainder of the material from the Stax sessions
ECB: In my opinion, the 1974 august/September and 1975 March/April Vegas season seems to be a turning point in Elvis career. He tried more contemporary material on these seasons and really seemed to want to break free of the pattern his shows had become. Is there any chance that we will see more concerts of this season on the FTD label, specially the dinner show of August 20th when Promised Land was still at the set list?
EJ: We can certainly do another one on August 74 - we have almost all the shows. 75 is a problem, unless new tapes turn up.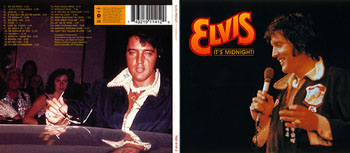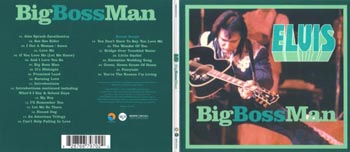 Its Midnight and Big Boss Man
ECB: One of the objectives of the Label is to represent every Tour, Tahoe and Vegas season with at least one release of the period. I Found My Thrill was one of the releases that filled a gap, since it was the first soundboard of the January/February 1974 season. The same goes for Taking Tahoe tonight, the first soundboard of a Tahoe ´73 season. With this in mind, what is the situation with Tahoe 1971 and 1976 as well the July 75 tour and Vegas August 1975 and December 1976 season?
EJ: We'll get around to doing all of this, when we have tapes. However we do not have tapes from Tahoe in 1971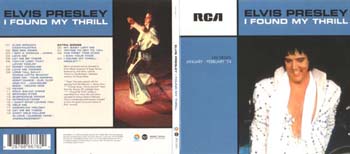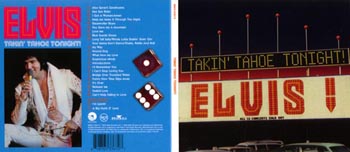 I Found My Thrill and Taking Tahoe Tonight
ECB: Jungle Room Sessions must be one of the most successful releases of the label and it's certainly one of the most important. Not only it was the first time that we could hear alternate takes from many songs of these sessions but it also painted a different and better view of his last recording sessions. Many fans ask for a follow up, even if some songs like Way Down don't have any more takes left. Are there any chances that this happens?
EJ: There is not enough unreleased material
ECB: What about the David Briggs micro-cassette recordings? If I'm not mistake you went thru it some years ago. There wasn't anything interesting on it?
EJ: I don't think David Briggs would let us have them, and from what I heard, there was nothing we needed on the tapes. However, I have only heard parts.
ECB: We do know that FTD or SONY/BMG will only release Elvis On Tour material when Warner releases the DVD edition from this movie. Do you feel that 2007 will be the year?
EJ: Definitely not, but we have already released a lot of ON TOUR material at BMG and FTD.
ECB: There are many rumors of tapes containing more rehearsals from the 70´s. Could we count on it as a possible source for new songs?
EJ: I think we could get lucky, but we don't know of any particular tape to chase
ECB: Tell us a little more about the next SUN project that you're currently working on. It seems to be a labor of love. How the book will be and what can we expect of the pictures in it and the accompanying CDs?
EJ: It's a VERY expanded version of the DAY BY DAY idea. It's mainly about photos, dates, and stories by the people who were there. There will be 3 CD's
a) The masters
b) The outtakes
c) Live, radio and demos
ECB: Do you still believe that any unreleased track from Sun period will surface? Have you listened to any new recently discovered track from this period yet to be released?
EJ: I will be VERY surprised if any SUN recordings will turn up. I still believe, and hope, that more recordings from the Louisiana Hayride could turn up.
ECB: Any good news about concerts and tape sessions from the 50´s?
What about radio broadcastings. Wouldn't that be a possible source of 50´s material?
EJ: No good news, I'm afraid
ECB: How about the Roustabout, Girls, Girls and Girls and Speedway tapes? Do these tapes still remain lost?
EJ: Yes
ECB: Do you have any special material that you really like but did not have the chance to release it on FTD label?
EJ: Not yet, but I check all solid rumors.
ECB: What about the next FTD containing recordings from Vegas 1972. What can we expect from it?
EJ: See press release in the next few days( Check our news section: 02/21/2007)
ECB: Will FTD release more concerts from the 1969 and August 1970? (Douglas Hartung)
EJ: Definitely - but it's a little early at this time
ECB: The FTD label is releasing great material for almost a decade now. Unfortunately, all good things must come to an end and we are getting to the bottom of the barrel with studio material. With this in mind, how long you think FTD will be able to provide us quality material?
EJ: I have no problem seeing us active for the next 5 years
ECB: Songs like Pieces Of My Life, Turn Around And Look At Me, Young And Beautiful, You Can Have Her, Shake A Hand, When The Snow Is On The Roses, I John and many others. Any of these are known to be in soundboard format?
EJ: Unfortunately not - but we are still looking
ECB: Many concerts from That's The Way It Is time are completely obscure for the fans. We do not own any information about the track listings. Many people recall that Elvis did sing "Mary In The Morning" once. Other song mentioned years ago was "Tomorrow Never Comes". It makes sense, since Elvis rehearsed both songs during August 1970. Do you know anything about it?
EJ: Not on RCA tapes
ECB: Many times, after the release of a new CD, we read a great deal of complaint, especially on message boards. Many times this criticism is unjustified as no one can change the way Elvis performed the shows or the way they were recorded. How you deal with this kind of criticism?
EJ: We do read the criticism - sometimes we feel it' unfair, and sometimes we wish we would have done a better job. There are always compromises to be made, unfortunately
ECB: During the decades many unknown live recording have surfaced and impressed the fans. Examples are Danny Boy in FTD label and Where No One Stands Alone was in the 90's on bootlegs. Do you still think we will be surprised with a new song that that he sung live that we are not aware of?
EJ: I don't know of any at this time
ECB: You have been searching high and low for anything unreleased Elvis for quite some time now. What were the finds that you're most proud of and what was the most difficult to obtain?
EJ: I think I'm most proud of having found all the tapes that were stolen from RCA - it took me 10 years to get it sorted.
ECB: Elvis is dead for 30 years now and its indeed funny how times slips away. However, if one look to the sheer amount of unreleased stuff that came to see the light of the day since his passing, one can only be amazed. Do you think that we still can be surprised with new material in the future?
EJ: I have to believe that - that's where the motivation comes from. After all, I'm a collector just like the rest of you.
ECB: You commented in another interview that some collectors have material that could blow our minds. Could you comment a bit more on this subject? Is there much interesting material in private hands? What they would be, pictures, recordings or footage?
EJ: I'm mainly talking about footage and photos. Hopefully these collectors decide to share there gems.
ECB: 2007 is celebrating Elvis' 30th passing year. Is FTD or the main label going to surprise the fans with something special?
EJ: Sony/BMG wants to make their own announcements
ECB: Is there any plans to upgrade, sound wise – perhaps in SACD-, the original discography that is available to the general public? CDs like: From Elvis In Memphis, Elvis That's The Way It Is, Elvis Country, Madison Square Garden, An Afternoon In The Garden, Aloha From Hawaii, among others? ( Douglas Hartung)
EJ: We always try and upgrade the sound, but I don't think anybody supports to SACD format anymore.
ECB: You saw an Elvis show in 1976, tell us about this experience
EJ: I was totally excited, but we had VERY poor seating, and the show was not Elvis' best. However I met Felton - that blew me away. He was just such a nice man.
ECB: As a record producer, what kind of direction would you take Elvis if you could be in charge of the 1977 studio session that never happened?
EJ: I don't know anymore. Back then I'm sure I would have wanted him to make an R&B/R&R record,
ECB: To wrap up this fantastic interview, is there any exclusive news you can comment with the fans in Brazil about any upcoming project on FTD or the main Label?
EJ: I'm unfortunately not in a position to do so, but you will have news of 3 FTD releases in just a few days.(Check our news section 02/21/2006, about Live In L.A.-1974)
We like to thank Mr. Jorgensen for the time he spent answering our questions and also for the wonderful work he's been doing at FTD and Sony/BMG. We fans are much grateful for his work and the work of the FTD team.

Home
® 2005,2006,2007 Elvis Collectors Brasil. O conteúdo deste site, seus textos e imagens são de exclusividade do mesmo. Qualquer reprodução do seu conteúdo sem prévia autorização dos proprietários é proibida e consiste em falta de ética.