Elvis Collectors Brazil is proud to begin its new section of the site, interviewing Elvis bassist Jerry Scheff. We thank Jacqueline Ulmo, who sent to Jerry our questions. It is a rare occasion where a TCB Band member talked exclusively to Brazilian fans. Enjoy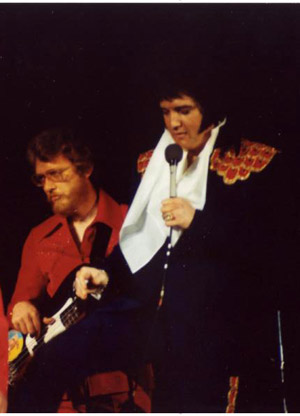 ECB: Elvis Collectors Brasil
JS: Jerry Scheff
JU: Jacqueline Ulmo
ECB: What was your first impression about Elvis, when you first met him?
JS: I was not a fan of Elvis Presley when I first met him. I liked black music and modern Jazz. I went to the rehearsal just to see and hear what he was doing.
I walked into RCA recording studio and he was sitting on a stool wearing nice clothes. I walked over and introduced myself. He was very polite. He stood and shook my hand and said how glad he was that I was there. I said," Elvis, I don't know any of your songs'"
He said "don't worry lets just play some blues. We will have plenty of time later to play my stuff." I thought," This guy is a nice guy". No attitude. We played the blues and I was impressed.
I went home that night and told my ex wife that I had accepted the job. She said," You're joking." I said," No. You come and hear him tomorrow night. She came with me and was very impressed. We were both fans after
ECB: What are you recollections about opening night 69? After the great opening night, what was the feeling among everybody? Was Elvis happy with the results? Was the TCB band satisfied?
JS: We had been rehearsing for weeks and we all felt excited and confident in the music.
We all went down to Elvis's dressing room to hang out before the show. He was very nervous because he wasn't sure the audience would still like him after all of his movie and army years. When we finished the first song he knew the people still loved him. Everything went perfectly and we came off the stage in a stage of elation.
ECB: Elvis seemed to rehearse many, many songs for his comeback in Las Vegas. However, most of those songs never saw the spotlight. Was Elvis afraid that those songs may not work with the audience, and so choose to stay close to his old hits?
JS: No, actually he did introduce new songs to the show. Some of them made it into the set list but didn't connect with Elvis and the audience. (Sweet Caroline for instance).
ECB: The Aloha From Hawaii special was undoubtedly Elvis pinnacle as a superstar. However, understandable so, he was quite nervous. How did you felt being part of this event, playing live for a worldwide audience? And how did Elvis felt after the show, was he pleased with the results?
JS: Aloha is one of my favorite filmed concerts with Elvis. He got into shape and looked great.
I don't mean to appear blasé but when we were working these concerts, we had played these songs many times, and for me, it was a lot like the concerts we had done with Elvis for three years. I don't remember thinking, " Oh oh, a billion people are watching us". I think the other musicians and singers would agree with me.
Elvis was very happy afterward, and Colonel Parker was extremely happy because people around the world paid to see Elvis and the Colonel didn't have to go through the trouble and expense of touring outside the US (smiles).
ECB: After The Aloha, was any talking about a world tour? Was he willing to do that?
JS: Yes, Elvis wanted to tour the world. We were flying with Elvis right after he had bought the airplane "The Lisa Marie". He said that one of the reasons he got the airplane was so we could tour Europe, Asia and South America.
It is generally accepted that Colonel Parker talked Elvis out of leaving the US.
It is said that The Colonel was from Holland, and was in the US illegally. He evidently could not leave the US. He was afraid that he would not be allowed back in the US. He evidently did not want Elvis to go without him because he was afraid that Elvis would discover that he could do without him. We knew that Elvis tried to get rid of the Colonel at least three times, but the Colonel talked him out of it each time.
ECB: You mentioned about Elvis willing to tour South America…Do you think that Elvis had any idea about the multitude of fans that he had in South America and mainly over here in Brazil? Did he mention at anytime coming to Brazil as part of his plans, just as many other superstars have already performed on tour in Brazil?
JS: No, I never heard Elvis mention Brazil specifically. I am sure that he knew he had fans in South America though.
ECB: You left the show after 1973, why was that so?
JS: I was tired and wanted to spend some time fishing, gardening, and working on my health
ECB: After you comeback, 1975, did you noticed any differences in Elvis and in the show?
JS: Yes, there was less intensity in the shows. I didn't notice anything different about Elvis except he had gained a little weight, but he was at the time of his life when we all struggle to keep the weight off. I think that was his business and as long as people paid to come hear him it was nobody else concern.
I hear some of the other band members talk about how Elvis was out of control at times, but I never noticed it very much.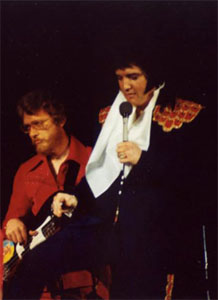 Elvis and Jerry in 1975, soon after he returned to the band.
ECB: You did two New Years Eve's gigs with Elvis. One in Pontiac in 1975, and other in Pittsburgh 1976. Both are still unreleased. What are your memories about those two nights and do you believe that a soundboard tape may exist of those events, and can see the light of the day via FTD label?
JS: I mainly remember Pontiac. The concert was in a huge venue where the roof was held up by compressed air. We were on a revolving stage that was tiered like a wedding cake. Elvis was on the top tier like the groom. We froze our asses off it was so cold.
Colonel Parker hired a bluegrass band to open the show and He made them wear diapers and nothing else, like baby New Year or something. We felt very sorry for them. The show was not that good because of the cold and the stage setup and the band couldn't see one another very well.
I have no idea if a soundboard tapes exist.
ECB: That brings us to another question: During the last years, many concerts were released, in good quality, both unofficially by bootleg labels, and officially by FTD and RCA. Those shows are, in 99% of the time, soundboard tapes. Who was the responsible for those recordings, who ordered it, and was Elvis and the Band aware that they were recorded?
JS: I don't know who ordered the sound board tapes. Bill Porter the sound engineer must have recorded all those shows. I know of a famous album by Ray Charles called Live In Atlanta.A local radio station recorded the concert with one microphone.
When they listened to it later, it sounded wonderful so Ray's record label mixed it and sold a bunch. We know that many people filmed and taped shows from the audience so maybe some of those recordings may be what people think of as Board tapes.
ECB: Elvis did great shows right to the end, however, in the later years, 76-77, it was increasingly difficult to him to delivery the goods, which sometimes resulted in some poor performances. Did you and the band notice that something was wrong with his health?
JS: Looking back, I am certain that Elvis suffered from Clinical Depression in the last years. I have suffered from that in the past and believe me when I tell you that it´s not just a bad case of the blues. Clinical depression is a suffocating illness that is now thought to be a combination of chemical imbalances in the brain. Self medication Alcohol, drugs etc. is very common among people with this illness. A person will do almost anything to remove the mental pain.
Suicide, actual, and attempted, is common. I do not ( emphasizes) believe that Elvis committed suicide. I think he was on that long slide down to the bottom.
Now there are anti depressants and modern therapy which work well for some people. Unfortunately they weren't available in the 1970s.
Some of the people involved with the show have told me stories of Elvis on stage and I swear I don't remember things being as bad as some people say.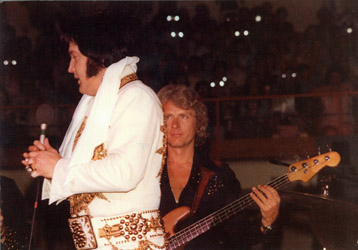 Elvis and Jerry in 1977
ECB: For a long time, rumor has it, that Elvis last session at Graceland in 1976 was marred by the singer lacking of commitment and bad mood. However, when FTD released the "Jungle Room Sessions" we were presented with a complete different scenario, as Elvis, at least on the record, seemed in quite good mood and willing to performer. What are your recollections of those last sessions?
JS: I remember some of my favorite times with Elvis at those sessions. He was very committed to doing the songs he wanted to do. The Colonel and some other people wanted him to do rockers (Myself included, with my song Fire Down Below.) I don't think he wanted to sing those kinds of songs anymore.
However, like you say, some good music was made in the Jungle room
ECB: You mentioned that some of your favorite times with Elvis were at those sessions (jungle room). Can you comment a little more about those special moments? Do you remember if any pictures or footage were taken during those sessions?
JS: The sessions in the Jungle room were special because most of the time Elvis was happy and joking around which put everyone in a good mood. I don't remember any filming going on. I don't think Elvis would have permitted it.
ECB: You mention in your website that: "I wrote a song that was the last song Elvis Presley ever worked on in a recording situation. It is called, "Fire Down Below" We were at Graceland and spent an hour or so working it up when Elvis got real pale and went upstairs to lie down." Can we conclude that Elvis did try to cut the song , say maybe in a rehearsal? Is there a possibility it was caught on tape?
JS: No. If there were, I would know
JU: About your excellent song: "That´s When The Real Love Begins", looks like it was done after a request from Elvis. Why he never recorded it?
JS: Elvis never heard the ballad because his producer didn't think it was right for Elvis. I originally wrote it as a country song and changed the melody and chords later
JU: Leaving the past behind, We have read somewhere that "Elvis The Concert 2006 Is Getting Shape" and there is a good chance that it goes on a worldwide tour, this fall. People are talking about you guys touring Bangkok, Japan, New Zealand, Australia. Could you please tell us if this is true? There is any chance for the "Elvis The Concert 2006" come sometime to South America in your opinion?
JS: Yes, we are touring the whole month of October in all of those places in your question. There is "Talk" about Europe sometime next year. Nothing about Latin America I'm afraid.
JU: To wrap up this interview, can you tell us what Jerry Scheff is doing now, and what are the plans for the future?
JS: I'm living in Scotland. I do miss the warm climate of California, but only sometimes.
We live in a Victorian stone house built in 1850 that is on the grounds of Duns castle in the south of Scotland.
I am over half way through a book of my musical memoirs. All about music in my life and only a few chapters about my musical times with Elvis. I have been asked to sign with a literary agent in London so I must be doing something right.
I am booked for different musical engagements though out the year and also some speaking engagements.
I am writing songs again, and putting my recording studio together so I can record my songs.
We would like to thank Jerry Scheff for taking this time to talk to us and make this such a important moment for Elvis fans in Brazil.
We would also like to thank Jacquelie Ulmo who sent the questions to Jerry.
® 2006 Elvis Collectors Brasil. O conteúdo deste site, seus textos e imagens são de exclusividade do mesmo. Qualquer reprodução do seu conteúdo sem prévia autorização dos proprietários é proibida e consiste em falta de ética.





Home





</HTML