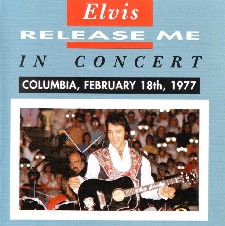 Release Me
Show gravado em Columbia, Carolina do Sul no dia 18 de Fevereito de 1977.
Músicas:
2001 Theme
See See Rider
I Got A Woman - Amen
Love Me
Fairytale
You Gave Me A Mountain
Jailhouse Rock
O Sole Mio / It´s Now Or Never
Trying To Get To You
Little Sister
Teddy Bear / Don´t Be Cruel
Are You Lonesome Tonight
That´s All Right
My Way
Release Me
Introductions
Hurt
Hurt (Reprise completo)
Can´t Help Falling In Love

® 2006 Elvis Collectors Brasil. O conteúdo deste site, seus textos e layout são de exclusividade do mesmo. Qualquer reprodução do seu conteúdo sem prévia autorização dos proprietários é proibida e consiste em falta de ética.