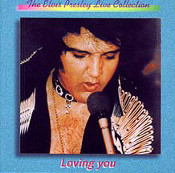 Loving You
Show gravado em Las Vegas, Nevada no dia 19 de Agosto de 1975 Dinner Show.
Musicas:
2001 Theme
See See Rider
I Got A Woman - Amen
Blue Suede Shoes
If You Love Me
It´s Now Or Never
My Boy
Love Me
Loving You
Suspicious Minds
Band Introductions
Johnny B. Goode
Hail Hail Rock And Roll
T-R-O-U-B-L-E
Why Me Lord
How Great Thou Art
Let Me Be There
Crying In The Chapel
Can't Help Falling In Love

® 2006 Elvis Collectors Brasil. O conteúdo deste site, seus textos e layout são de exclusividade do mesmo. Qualquer reprodução do seu conteúdo sem prévia autorização dos proprietários é proibida e consiste em falta de ética.