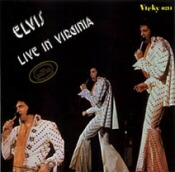 Live In Virginia
Show gravado em Hampton Roads, Virginia no dia 09 de Abril de 1972 Evening Show.
Musicas:
2001 Theme
See See Rider
Until It's Time For You To Go
Polk Salad Annie
Love Me
All Shook Up
Teddy Bear - Don´t Be Cruel
Are You Lonesome Tonight
I Can´t Stop Loving You
Hound Dog
Bridge Over Troubled Water
Suspicious Minds
For The Good Times
Band Introductions
An American Trilogy
Love Me Tender
A Big Hunk O´ Love
How Great Thou Art
Sweet Sweet Spirit (The Stamps)
Lawdy Miss Clawdy
Can't Help Falling In Love
Closing Vamp

® 2006 Elvis Collectors Brasil. O conteúdo deste site, seus textos e layout são de exclusividade do mesmo. Qualquer reprodução do seu conteúdo sem prévia autorização dos proprietários é proibida e consiste em falta de ética.