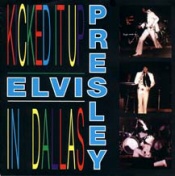 Kicked It Up In Dallas
Show gravado em Dallas, Texas no dia 13 de Novembro de 1971 Afternoon Show. Nota-se que este tape está com o show incompleto.
Músicas:
That´s All Right
I Got A Woman - Amen
Proud Mary
You Don't Have To Say You Love Me
Polk Salad Annie
Love Me
Lawdy Miss Clawdy
Bridge Over Troubled Water
I Can´t Stop Loving You
Can't Help Falling In Love
Bonus: Fevereiro de 1972
Proud Mary
Never Been To Spain
Love Me
You Gave Me A Mountain

® 2006 Elvis Collectors Brasil. O conteúdo deste site, seus textos e layout são de exclusividade do mesmo. Qualquer reprodução do seu conteúdo sem prévia autorização dos proprietários é proibida e consiste em falta de ética.