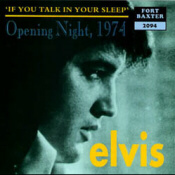 If You Talk In Your Sleep
Show gravado em Las Vegas, Nevada no dia 19 de Agosto de 1974 Opening Show.
Músicas:
Big Boss Man
Proud Mary
Down In The Alley
Good Time Charlie's Got The Blues
Never Been To Spain
It´s Midnight
If You Talk In Your Sleep
I´m Leaving
Let Me Be There (Com reprise)
Softly As I Leave You
If You Love Me
Love Me Tender
Polk Salad Annie
Band Introductions
Promised Land
Elvis apresenta Telly Savallas
My Baby Left Me
Bridge Over Troubled Water
Fever
Hound Dog
Can't Help Falling In Love (Incompleta)

® 2006 Elvis Collectors Brasil. O conteúdo deste site, seus textos e layout são de exclusividade do mesmo. Qualquer reprodução do seu conteúdo sem prévia autorização dos proprietários é proibida e consiste em falta de ética.