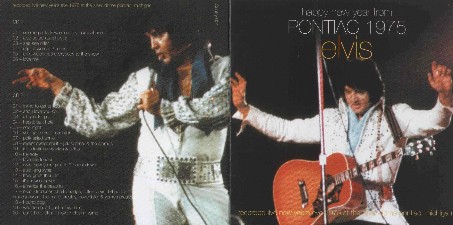 Happy New Year From Pontiac
Show gravado em Pontiac, Michigan no dia 31 de Dezembro de 1975.
Musicas - CD 1:
Opening Acts - Warm Up
2001 Theme
See See Rider
I Got A Woman - Amen
Elvis conversa com a platéia
Love Me
CD 2:
Trying To Get To You
And I Love You So
All Shook Up
Teddy Bear / Don't Be Cruel
Heartbreak Hotel
One Night
You Gave Me A Mountain
Polk Salad Annie
Sweet Sweet Spirit
Band Introduction
My Way
Love Me Tender
Contagem regressiva - Auld Lang Syne
How Great Thou Art
It´s Now Or Never
America The Beautiful
Elvis conversa
Hound Dog - Wooden Heart (1 linha)
Can't Help Falling In Love
Closing Vamp

® 2006 Elvis Collectors Brasil. O conteúdo deste site, seus textos e layout são de exclusividade do mesmo. Qualquer reprodução do seu conteúdo sem prévia autorização dos proprietários é proibida e consiste em falta de ética.