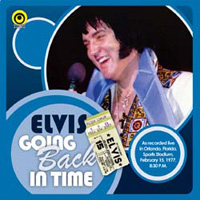 Going Back In Time
Show gravado em Orland, Florida no dia 15 de Fevereiro de 1977.
Músicas:
2001 Theme
See See Rider
I Got A Woman - Amen
Love Me
If You Love Me
You Gave Me A Mountain
O Sole Mio (Sherril Nielsen) / It´s Now Or Never
All Shook Up
Teddy Bear / Don´t Be Cruel
Help Me
Big Boss Man
My Way (Com reprise)
Band Introductions
Early Morning Rain
What´d I Say
Johnny B. Goode
Drums Solo
Bass Solo
Piano Solo
Electric Piano Solo
Love Letters
School Days
Hurt (Com reprise)
Hound Dog
Can't Help Falling In Love
Closing Vamp and Announcement
Bonus em soundboard:
It´s Now Or Never
My Way
Hurt

® 2006 Elvis Collectors Brasil. O conteúdo deste site, seus textos e layout são de exclusividade do mesmo. Qualquer reprodução do seu conteúdo sem prévia autorização dos proprietários é proibida e consiste em falta de ética.