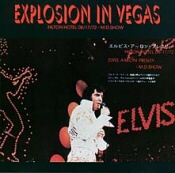 Explosion In Vegas
Show gravado em Las Vegas, Nevada no dia 17 de Agosto de 1972 Midnight Show.
Musicas:
2001 Theme
See See Rider
Johnny B. Goode
Proud Mary
Until It's Time For You To Go
You Don't Have To Say You Love Me
You've Lost That Lovin' Feeling
Polk Salad Annie
What Now My Love
Fever
Love Me
Blue Suede Shoes
Heartbreak Hotel
All Shook Up
Hound Dog
I´ll Remember You
Little Sister - Get Back
Love Me Tender
Suspicious Minds
For The Good Times
A Big Hunk O' Love
American Trilogy
Tigerman
Can't Help Falling In Love

® 2006 Elvis Collectors Brasil. O conteúdo deste site, seus textos e layout são de exclusividade do mesmo. Qualquer reprodução do seu conteúdo sem prévia autorização dos proprietários é proibida e consiste em falta de ética.