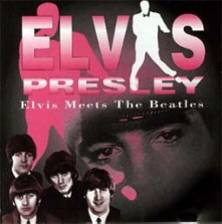 Elvis Meets The Beatles
Show gravado em Las Vegas, Nevada no dia 03 de Agosto de 1969.
Musicas:
Blue Suede Shoes
I Got A Woman
All Shook Up
Love Me Tender
Jailhouse Rock - Don't Be Cruel
Heartbreak Hotel
Hound Dog
Memories
Mystery Train - Tiger Man
Life Story (Dialogo)
Baby What You Want Me To Do
Are You Lonesome Tonight
Yesterday - Hey Jude
Band Introductions
In The Ghetto
Suspicious Minds
What'd I Say
Can't Help Falling In Love

® 2006 Elvis Collectors Brasil. O conteúdo deste site, seus textos e layout são de exclusividade do mesmo. Qualquer reprodução do seu conteúdo sem prévia autorização dos proprietários é proibida e consiste em falta de ética.