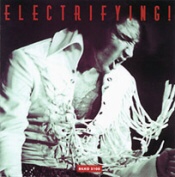 Electrifying
Este CD contém diversas performances ao vivo em Fevereiro e Agosto de 1970 seguido de ensaios para o filme That´s The Way It Is.
Musicas:
That's All Right (Versão Blues)
Twenty Days And Twenty Nights
Patch It Up
Love Me
Yesterday - Hey Jude
I Can't Stop Loving You
It's Your Baby, You Rock It
Ghost Riders In The Sky
Peter Gunn theme
Hound Dog
Don´t Cry Daddy
Let It Be Me
Polk Salad Annie
The Lord's Prayer
My Country Tis Of Thee
Havana Gila
You Don't Have To Say You Love Me
Stranger In The Crowd
Blueberry Hill (Elvis on electric guitar)
Lawdy Miss Clawdy (Elvis ao piano)
Heartbreak Hotel
One Night
It's Now Or Never

® 2006 Elvis Collectors Brasil. O conteúdo deste site, seus textos e layout são de exclusividade do mesmo. Qualquer reprodução do seu conteúdo sem prévia autorização dos proprietários é proibida e consiste em falta de ética.