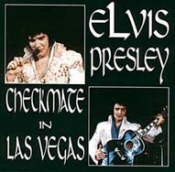 Checkmate In Vegas
Show gravado em Las Vegas, Nevada no dia 06 de Fevereiro de 1974 Midnight Show.
Músicas:
2001 Theme
See See Rider
I Got A Woman - Amen
Love Me
Trying To Get To You
Love Me Tender
Sweet Caroline
Johnny B. Goode
Hound Dog
Fever
Polk Salad Annie
Killing Me Softly (The Voice)
Spanish Eyes
Why Me Lord
Suspicious Minds
Band Introductions
Elvis Introduces The Checkmates and Nancy Sinatra
Blueberry Hill - I Can't Stop Loving You
Help Me
An American Trilogy
Let Me Be There
Can't Help Falling In Love
Closing Vamp
Bonus:
Hawaiian Wedding Song (Huntsville, 31 de Maio de 1975)
Love Me Tender (Jackson, 08 de Junho de 1975)

® 2006 Elvis Collectors Brasil. O conteúdo deste site, seus textos e layout são de exclusividade do mesmo. Qualquer reprodução do seu conteúdo sem prévia autorização dos proprietários é proibida e consiste em falta de ética.