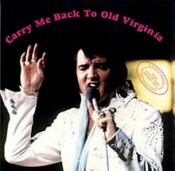 Carry Me Back To Old Virginia
Show gravado em Richmond, Virginia no dia 10 de Abril de 1972.
Musicas:
See See Rider
Proud Mary
Never Been To Spain
You Gave Me A Mountain
Until It's Time For You To Go
Polk Salad Annie
Love Me
All Shook Up
Bridge Over Troubled Water
Love Me Tender
It's Over
Band Introductions
For The Good Times
American Trilogy
Funny How Time Slips Away
Can't Help Falling In Love

® 2006 Elvis Collectors Brasil. O conteúdo deste site, seus textos e layout são de exclusividade do mesmo. Qualquer reprodução do seu conteúdo sem prévia autorização dos proprietários é proibida e consiste em falta de ética.