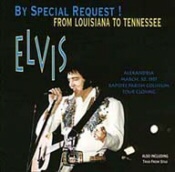 By Special Request: From Lousiana To Tennessee
Show gravado em Alexandria, Los Angeles no dia 30 de Março de 1977.
Musicas:
Love Me
If You Love Me
You Gave Me A Mountain
Jailhouse Rock
O Sole Mio / It´s Now Or Never
Little Sister
Teddy Bear / Don´t Be Cruel
And I Love You So
Fever
Love Me Tender
Hurt
Hound Dog
Danny Boy (Shierril Nielsen)
Walk With Me (Shierril Nielsen)
Blue Suede Shoes
Can't Help Falling In Love
Bonus Stax Studios em 1973:
Help Me
My Boy
It´s Midnight
If You Talk In Your Sleep
Good Time Charlie's Got The Blues
Talk About The Good Times
Girl Of Mine

® 2006 Elvis Collectors Brasil. O conteúdo deste site, seus textos e layout são de exclusividade do mesmo. Qualquer reprodução do seu conteúdo sem prévia autorização dos proprietários é proibida e consiste em falta de ética.