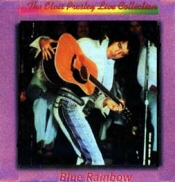 Blue Rainbow
Show gravado em Fort Wayne, Indiana no dia 25 de Outubro de 1976.
CD 1:
See See Rider
I Got A Woman / Amen
Love Me
Fairytale
You Gave Me A Mountain
Jailhouse Rock
Help Me
All Shook Up
Teddy Bear / Don´t Be Cruel
Trying To Get To You
Fever
America The Beautiful
Band Introductions
Early Morning Rain
What´d I Say
Johnny B. Goode
CD 2:
Love Letters
School Days
Hurt
Hound Dog
How Great Thou Art
Funny How Time Slips Away
Blue Christmas
Mystery Train / Tigerman
Danny Boy (Sherril Nielsen)
Gospel (Sherril Nielsen)
My Heavenly Father (Kathy Westmoreland)
Burning Love
Can´t Help Falling In Love

® 2006 Elvis Collectors Brasil. O conteúdo deste site, seus textos e layout são de exclusividade do mesmo. Qualquer reprodução do seu conteúdo sem prévia autorização dos proprietários é proibida e consiste em falta de ética.