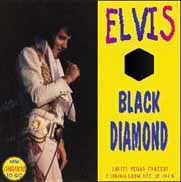 Black Diamonds
Show gravado em Las Vegas no dia 12 de Dezembro de 1976. Esse é o ultimo show em Vegas!
CD 1:
2001 Theme
See See Rider
I Got A Woman / Amen
Love Me
My Way (Com False Start)
Fairytale
You Gave Me A Mountain
Dialogue
Jailhouse Rock
Little Sister
O Sole Mio / It´s Now Or Never
Trying To Get To You
Happy Birthday Charlie Hodge
Blue Suede Shoes
Dialogue
Blue Christmas
Softly As I Leave You
Are You Lonesome Tonight
That´s All Right
Bridge Ove Troubled Water
CD 2:
Band Introductions / Early Morning Rain
What´d I Say
Johnny B. Goode
Love Letters
School Days
Hurt
Such A Night
Sweet Caroline
Can´t Help Falling In Love
If I Loved You (Bonus)
Baby What You Want Me To Do (Bonus)
Separate Ways (Bonus)
Snowbird (Bonus)
Little Egypt (Bonus)
Burning Love (Bonus)
For The Good Times (Bonus)
Wearing That Loved On Look (Bonus)

® 2006 Elvis Collectors Brasil. O conteúdo deste site, seus textos e layout são de exclusividade do mesmo. Qualquer reprodução do seu conteúdo sem prévia autorização dos proprietários é proibida e consiste em falta de ética.