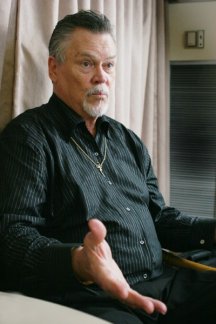 Photo Courtesy of: sonnywest.com
Elvis Collectors Brasil presents another exclusive interview, this time with Elvis friend and bodyguard Sonny West. Sonny worked for Elvis for seventeen years and was with the "king" in his ups and downs. Sonny was his bodyguard and worked the overall security of his tours and Vegas appearences. Sonny also appeared in some of Elvis movies as a stunt double. In this conversation, Sonny tells about the times with the king, the tears and laughs, Elvis What Happened? and the new book, Elvis: Still Taking Care Of Business.
The Early Years
ECB: To kick off this interview; please tell us how it was to grow up in Memphis.
SW: Memphis was a great place to grow up. I spent many of my young years in a government housing project where there were many children in the same age range as myself. There was always someone to play some type of game with. We were poor, but a kid doesn't know that until someone tells him. Also, growing up in the '50's as a teenager had to be the best time ever to be one.
ECB: You went to the same school as Elvis, but you only met him in the army. Was you interested in his music before you met him? Did you watch any of his movies?
SW: I went to the same school, Humes, but I was 3 years behind Elvis. I went there in the 7th and 8th grade and during that time, Elvis was in the 10th and 11th grade, so I didn't know him. I met him while he was in the Army, but I wasn't, I had just got out of the Air Force. I loved his music before I met him. My favorite song at the time was, I Was The One, which I played over and over on the jukebox, wherever I was and they had one.
I liked many of his movies, but my favorite was King Creole.
ECB: How was the first time you talked to him? What impressions did he left on you?
SW: I was very impressed what a nice guy he was when I first met him. He was very relaxed and polite. A real gentleman.
ECB: How did you ended up working for him and what was your job?
SW: He asked me to go to work for him about 2 to 3 weeks after he returned to America from spending time in Germany while he was in the Army. My job was to take care of things for him, which included taking care of any jealous boyfriends that may have wanted to harm him.
ECB: Elvis had lost his mother fairly recently when you started work for him. Did he talked about her and her death with you?
SW: He actually lost his mother before I even met him, in 1958. It was 3 or 4 weeks after her death that I met him. Then it was another 18 months or so before I went to work for him. He did talk quite a bit about her in the early years that I worked for him, we often went to her gravesite where she was buried.
ECB: How was the relationship between Elvis and his father Vernon?
SW: Elvis loved his father, but he was very close to his mother. They spent a lot of time together when he was a child. She walked him to school long after most mothers stop doing so, and only stopped when Elvis pleaded with her to do so.
ECB: How was the relationship between Elvis and his stepmother Dee? He never accepted her, is that right?
SW: Elvis treated Dee with respect as she was his father's wife. He accepted that fact, but he didn't consider her as his stepmother, just his father's wife. He publicly made the statement, that as long as she makes my daddy happy and understands she is his wife and not a replacement for my mother, we will get along fine.
ECB: After you started working for Elvis, you're soon introduced to the movie sets. What was it like?
SW: My favorite years with Elvis were doing the movie years. First of all, I really enjoyed movies when I was younger, and even thought about going out and try to be in them, especially as a cowboy. That was my favorite kind of movie when I was young.
ECB: Do you have any particular funny stories about those times?
SW: I actually have many funny stories about those early times when we were making movies. He had a great sense of humor and we did some "crazy" things during those years. There really are too many to mention, and I write the way I talk, so it would take too much time to type it. I did an interview for another website and I felt like I had written a third book when I was finished. I made up my mind right then, never again.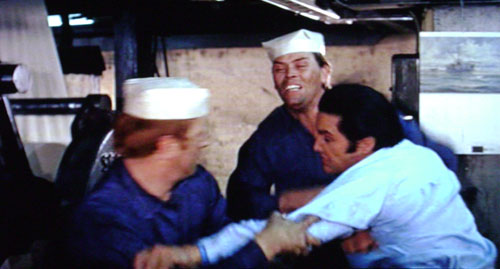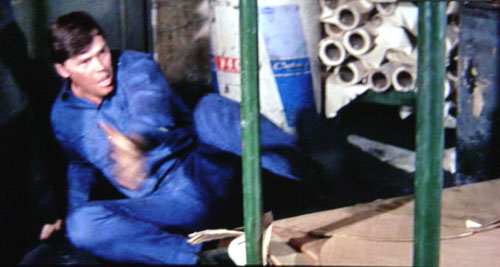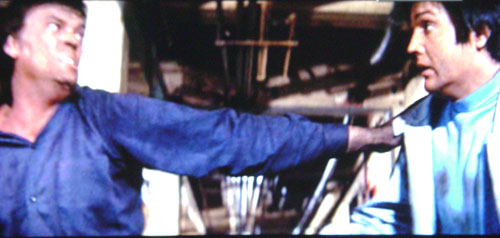 Sonny, Red and Elvis throwing some punches in Live A Little,Love A Little
ECB: You´re also present at many recording sessions, right? How it was like?
SW: The recording sessions, was when most everything slowed down. Meaning there was a more serious nature about Elvis when he went to work in the studio. I don't mean we didn't still do a few jokes on each other or one of the musicians or singers, but not most of the time. Sometimes we might be in there with him and the others playing or singing on the record, or we might be in another room where we could still hear him over the speakers in the room.
ECB: After his discharge of the army, he was offered some serious roles like Flaming Star and Wild In The Country. He proved on those roles, that he could someday be a good actor. The potential was really there. However, it never happened and he quickly saw himself trapped in the same formulaic roles of the handsome-singing-guy that fights someone and ends up with the girl. Some of those movies, like Blue Hawaii and Viva Las Vegas, offered some good production value, but after some time, the quality of the scripts, songs and plots really declined.
Did he ever expressed his feelings of discontentment with the movies with you?
SW: Yes he did. He became disenchanted with the movies because they became basically the same movie, just taking place in a different location, even a different country in a few of them. But he had signed contracts to do them, so he did them and had as much fun as he could while making them, with us, other cast members, and even the crews got in on it. The reason the movies went that way really fell into 2 categories. First the movies with a lot of music in them made a lot more money than the ones that did not. The movie that was his greatest money maker was also his albatross, Blue Hawaii. All of the studios and producers wanted to make a movie as successful as that one, but no one ever did.
ECB: It was about that time that the Beatles started their world domination. How did Elvis felt about this?
SW: Elvis was happy for the Beatles to have the success they had in the business. He thought they were very talented and even recorded some of their songs. He especially liked the song written by George Harrison, Something.
ECB: When the Beatles came to America, they expressed their will to meet Elvis. What was Elvis reaction to this and what are your recollections of that outstanding meeting between those music giants?
SW: The Beatles were influenced very much by Elvis when they were young and have said
they got into music because of his impact on them, they wanted to meet him in 1964 when they made their first trip to America, but his schedule of making a movie prevented it from happening at that time. Colonel Parker and Beatles manager, Brian Epstein, worked it out for the event to happen when they returned to America the next year. They came up to Elvis' home in Bel Air, located in Beverly Hills, California, and actually were very shy at first in the presence of Elvis. After a short while, they were laughing and talking, then began to sing each other's music, and playing some guitars and a bass. Ringo played some pool with my cousin Red and myself, since he didn't have any drums to play. After several hours, they left in good spirits after a great night of visiting. John Lennon has been quoted as saying, "Before Elvis, there was nothing."
Priscilla Presley
ECB: Did you remember when Elvis decided to bring Priscilla to his home? Why did he brought her and how did he convinced his parents that would be safe to let their teenager daughter move in with a rock star that lived abroad?
SW: Elvis decided to bring Priscilla to America from Germany, where her family was stationed with her dad in the U.S. Air Force. He met her in 1959 and began dating her while he was stationed there. When he left Germany to return home and get discharged from the Army, he began to miss her. He convinced her mom and dad to let her come to America and stay with his daddy and his new wife, Dee, sometime in 1962 or '63. He promised to have her finish high school, and she did.
ECB: Do you remember the day when she arrived and what were the changes in the relationship between Elvis and the guys?
SW: I do remember when she arrived in California for a visit first, then later returned and stayed. The relationships between Elvis and the guys didn't change at all. Things continued to be just like they were before Priscilla arrived. We did take a little more care in our language when she was around, but we did that with all of Elvis' ladies
.
ECB: How was the relationship between Priscilla and the Memphis Mafia guys?
SW: It was good at first, but after awhile she began to kind of resent us somewhat, as she felt we were keeping Elvis from having more private time with her more than he was. That was not our fault, as that was the way Elvis wanted it. When he wanted privacy, he got it. Period.
ECB: Do you think that Elvis really loved her, or do you think that he just got a big crush on her because she had all the features he liked on a girl, and later on, when the crush was gone, he regretted to have had brought her to live with him, and married her out of obligation?
SW: I definitely believe that Elvis loved Priscilla because of her beauty, charm and shyness when he began dating her. But I also know that he loved Anita Wood before he met Priscilla, and then loved Linda Thompson after Priscilla was gone. He also loved Ann-Margret. There were others in between the women mentioned above that he loved, maybe not as much as others, but he loved them. As for marrying Priscilla, I don't believe he wanted to get married, not to her, not to anybody really. Elvis just wasn't the marrying kind. He belonged to all the women of the world. I wasn't there when Elvis was dating his last girlfriend, Ginger Alden, but knowing Elvis as well as I did and also the other guys, he was not going to marry her either. It has nothing to do with any one of them, it had to do with Elvis.
ECB: Elvis had many other relationships besides the one with Priscilla, during this time. How Elvis kept those affairs secrets regarding her?
SW: Elvis did have relationships with other women while he was with Priscilla, before and during their marriage. It had nothing to do with Priscilla, it was Elvis. He loved women, their femininity. He enjoyed having discussions with them regarding their thoughts on subjects such as religion, music, life itself and current events that were happening at the time. When linked with someone while he was still with Priscilla, he would say it was just Public Relations and for publicity reasons. Which as a matter of fact, did go on and still does today.
ECB: Even thou his relationship with Priscilla was a troubled one, he was very happy when she announced that she was pregnant. Tell us about his time of Elvis life. How did he announced to you and the other guys he would soon be a father?
SW: Elvis was very excited and happy when Priscilla told him he was going to be a daddy. I wasn't there when it was first announced, but when he told me how happy he was, there was no doubt that baby was going to be very loved and very spoiled. His life at the time was going very good and all was well.
ECB: There's a lot of talk about how depressed Elvis became when Priscilla departed. Yet, he seemed happy with Linda Thompson. Do you think this is a romanced account or he really felt her loss?
SW: Elvis was very upset when Priscilla told him she was leaving him and did go into a bit of a depression for a short time. Then he met Linda Thompson and she lifted his spirits with her bubbly personality and great sense of humor, not to mention her beauty and statuesque figure.
The Comeback
ECB: When the movies started to go down in the box offices, and he got really tired of it, something magical happened. The Singer Special, now know as "The Comeback Special". Some music critics refers to it as the most fantastic comeback in rock history. What are your recollections about this time? What were Elvis feelings and expectations about it?
SW: When he began doing the "Special", now referred to as the "Comeback Special", it was to be a Christmas Special. The director had a different vision for the show, and after talking with Elvis about it, the show's concept was changed. It was mostly production numbers filmed without an audience, but then the director thought of having him perform in front of an audience. Elvis wore the black leather outfit and that scene in the show is what generated the most excitement, not from just the fans, but Elvis also. It was largely responsible for him wanting to perform in front of live audiences again. He was very proud of the finished product, and when the TV viewing audience loved it, and the critics loved it, it really made him very happy.
ECB: After the success of the special, Elvis went back to live appearances. Las Vegas was the chosen ground for his comeback. What do you remember of this time and how you worked the security scheme for this new environment?
SW: Elvis had full-filled all of his contracts for the movie studios when he opened in Las Vegas at the International Hotel on July 31st, 1969. It was a fantastic time and everyone was a little apprehensive. None more so than Elvis himself. He was very nervous, but it was a "good" nervous feeling he had. Opening night, the air was filled with electricity, it was all around backstage and everyone involved in the show could feel it. Elvis was fantastic! He had so much energy and charisma just seeming to excite everyone in such a unique way. It really was a great night, and it continued for the rest of the shows, 60 of them in all over 30 days.
The security wasn't really such a challenge, as there were security guards from the hotel on each side of the stage on the floor level. I was behind the curtains on the side of the stage. Other than some ladies getting up onstage and getting a hug or kiss from him, there weren't any security issues that night. The security problems would come the next summer, in 1970, when we were there for the third time.
ECB: Security work in Vegas was surely different when compared to the huge arenas, when Elvis was touring the US, right?
SW: Yes it was. Security became more difficult in Vegas because of the low stage and how easy it was to climb up on it. All people had to do was step on their chair and then step on the stage. And you would be amazed how fast ladies could do that. In the arenas, the stage was usually around 6 feet high, with security, usually uniformed policemen, lined up in front of it. So it wasn't easy thing to get on the stage, but it did happen a few times though.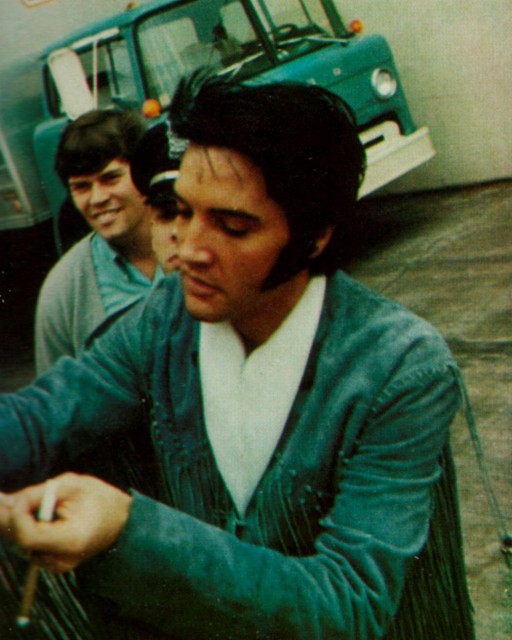 Sonny West watches over Elvis as he signs some autographs. Houston, 1970
ECB : There was a particular incident that happened in Vegas, in 1973, that become to be know as the "fight night". The story goes on that tree man jumped on stage and attacked Elvis, who defended himself against one of them while the other were dominated by you and Red. What are your memories of this incident and why did the mans attacked Elvis?
SW: Elvis wasn't really attacked by anyone. A man jumped up onstage and began running towards Elvis. He had a coat draped over his right arm and right hand. You couldn't see if he had a weapon or not in his hand. My cousin Red, caught up with him from behind before he got to Elvis and took him backstage where he turned him over to a security guard back there. Some of his male friends at the table, there were about 12 people there, (a few of them were ladies)began to try to get on the stage. I had to run across the stage in front of Elvis to get there, as I was on the opposite side of where the scene was taking place. JD and Jerry were over there keeping them from getting on stage and we just kept pushing them back off the stage and hotel security took them out of the showroom. The hotel had them arrested and they were taken by the police downtown. They told the police the guy just wanted to shake Elvis' hand, but the police said you don't run at a man with your hand and arm covered up with something, so as not to see if there is a weapon in your hand. The police ran a check on them and discovered they had long "rap sheets" of doing crimes, and a couple of them had been arrested before for carrying "concealed weapons".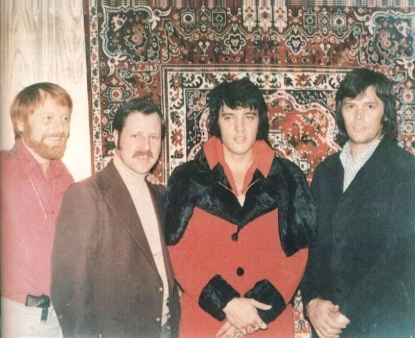 Sonny West (right) and his cousin, Red (far left) with Elvis, February 1973
ECB: Another peculiar moment was when he addressed from the stage, the rumors that he was strung out. This famous "speech" is out in a bootleg called Desert Storm. Do you remember this particular night and what made Elvis so enraged?
SW: There was a bellhop in the hotel started the rumor that Elvis was "strung out on drugs" due to the fact that there were so many prescriptions being brought to the hotel from a pharmacy for Elvis. Somehow, Elvis heard of the rumor and that night onstage while doing his show, he began to tell the audience about it. After telling them about the rumor, he threatened of what he would do to the guy if he found out who he was. He was extremely angry over it, and was truly, as you said, enraged!
ECB: There are many 8mm movies taken by his fans of some of his concerts. Knowing Elvis had bought one of the very first 8mm cameras, isn't amazing that no one, including him, got the idea to record some of his shows from the stage as an registry of those moments?
SW: No, not really. The 8mm movie camera Elvis had was used to film him in his private life, such as vacations, playing football, riding horses at Graceland and his ranch, and also when we traveled between Los Angeles and Graceland during the movie years. The one time it would have been good to record him, was when the Beatles came to his home in California in 1965 for that famous meeting. It would have been nice to have recorded that. The quality and sound to record him doing a concert wouldn't have been something he wanted to have done.
The Last Years
ECB: In the last 3 years of his life, we have the impression that he didn't want to go to recording sessions anymore. Do you think that he lost interest in music making or he just got tired of all the studio procedures?
SW: Elvis did a recording session in 1969 at American Studios in Memphis, that produced such great songs, Suspicious Minds, In The Ghetto, and other songs that were very good. For some reason, it did become difficult to get him to record after that. There were albums made from his live shows in Vegas, Memphis, New York and of course the double album from, Aloha, From Hawaii, the satellite show in January, 1973. Then, due to his medication addiction problem which developed over the years, he just wouldn't go into the studio very often.
ECB: After a short and disastrous tour in September/ October of 1974, he was hospitalized in January 1975. This hospitalization did him good, and for the most part of 1975 he seemed to be in good spirits and in better shape. Did you saw this as a signal of hope for the future?
SW: Yes and no. What I mean by this, is that he had tried before and succeeded, but then slowly eased back into too many prescription drugs again. Each time he tried, there was hope of course, that it would last, but it didn't.
ECB: You spent your last Christmas with him in 1975. Do you have any recollections of this time?
SW: Christmas time at Graceland for so many years had been such a great time. We all looked forward to the Christmas season, which meant a happy time of the year. We would celebrate New Year's Eve with fireworks at Graceland, and some years he would rent a nightclub just for his friends for a New Year's Eve party. The last couple of Christmases I spent with were really difficult for me personally, as I felt they were never going to be the same again. I just felt he was losing the battle.
ECB: You're also present in one of his last vacations, in Vail 1976, if I'm not mistake. In some of the pictures we can see Elvis wearing ski goggles. Did he skied a little and had some fun? What are you recollections of this time? Is there more pictures or maybe some 8mm footage of this vacation?
SW: In January of 1976, we went to Vail, Colorado for a vacation and to celebrate his 41st birthday. On the bus he chartered to take us from the airport in Denver to Vail, we sang Happy Birthday to him. Everyone was ready for a good time, because there hadn't been any for some time. We had a great time there. Elvis didn't ski any, but he rented some snowmobiles for us to ride around on up in the mountains, and we had some plastic discs that you could sit on and slide down the ski slopes. We would hook our legs around the person on the disc in front of you and form a "train" and then slide down the slope, trying to keep the whole train together, but we were never able to do so. I don't know of too many photos of that time, but if I did, I would love to have copies of all of them. They would represent some fun times in the middle of some very hard times.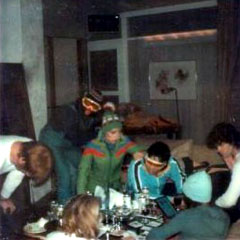 The group during the vacations in Vail, Colorado, 1976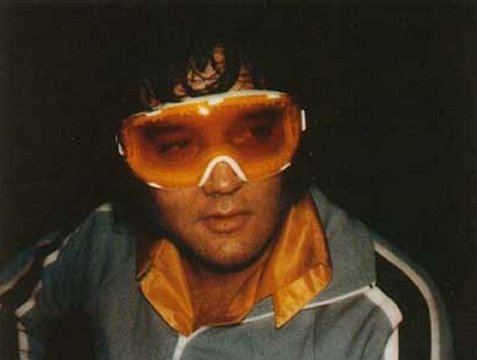 ECB: 1976 started really bad for him, it seems. His weight was out of control and his addiction to pills was even worse. Was there any conversations between you and him about his addiction, and his health?
SW: Yes, but the conversations started before 1976, they just happened more often in '75-76. He got mad at us, and told us to stop talking about it to him, or we would be looking for other jobs. We didn't stop and he told his daddy to fire us in July of 1976.
ECB: By this time of his career and life, do you think he wanted a new challenge? There was always the talk about a world tour that never happened. Is the blame of this solely on the Colonel, or Elvis wasn't up to it anymore?
SW: He had some challenges, one being the movie, A Star Is Born, with Barbra Streisand, but he didn't make the decision to do it. He made up some excuses why he wasn't going to do it, after tell her at their meeting he wanted to make the movie. After the meeting he told us he was going to do it also. We had hope that this would be the way to get him back to making movies again, which we always had fun making. But there is a misconception out there, that the Colonel Parker was to blame for Elvis not doing the movie. Elvis changed his mind about doing the movie and told the Colonel to get him out of it.
The Colonel did, and then he caught the heat and was even blamed by one of the guys in the group for being the reason Elvis didn't do the movie. That's because the guy wasn't there a few days later when Elvis changed his mind. Those of us that were there saw the signs that Elvis wasn't going to do it.
ECB: Then, in July of 1976, You, Red and Hebler were fired. What was your reaction to this, and why did Elvis, or Vernon, fired you?
SW: I touched on the reason for the firing in an earlier question, so I won't go into that again here. Our reaction at first was hurt, then anger that he would tell his father to let fire us because of a "cutback on expenses", while Elvis left town, so we couldn't go to him and ask the real reason, which we already knew, but wanted him to hear him say it. Because we had no access to him, the only way we felt we could reach out to him was to write
Elvis, What Happened?
ECB: After this episode, together with Red and Hebler, you decided to write the now "legendary" book, Elvis What Happened? Why the book was wrote?
SW: Because we had no access to him, the only way we felt we could reach out to him was to write a book to show him what he had and was doing to those who loved him. It had to be truthful, and had to get his attention. If it didn't work, we knew we were going to lose him. If he did not recognize the truth in the book as being just that, he would deny it like he denied he had a prescription drug problem and just continue down that path of destruction. He got very mad at us for doing the book, which we fully expected, and even try to "buy us off" not to do it. If we had agreed to that, we would have been no better than the doctors that were giving him whatever he wanted in medications. The people out there that disagree with us writing the book, referring to us with words I won't write in this interview, should maybe think, what if it had worked? What if Elvis had taken our challenge and stopped taking them and recovered? What would they call us then? I know what Elvis would have called us if we contributed to getting him off of the prescription drugs and saving his life: Very good friends.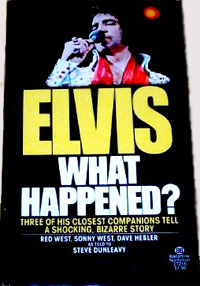 Elvis What Happened?
ECB: You already said in some interviews that you regretted how the book came out in the end. Why?
SW: What I meant by that was the way it seemed to tell of the incidents we told about to the writer, without the concern and love we felt for him. When we read the manuscript for proof reading, we went through it quickly and didn't check that fact. Of course, when we got our advance copies of it a few weeks before it was released, and I read it again, I did notice the writing style, but it was too late to change it. But the biggest regret I had about the book, was that it didn't do what we were hoping and wanting it to do. Get him to stop what he was doing to himself and get help to get off of the prescription drugs he was abusing.
ECB: Do you think that some parts of the book came out too much exaggerated by Steve Dunleavy? If so, is there any particular passage that you really regretted as to how it came out in the final print, or that somehow caused a wrong interpretation?
SW: I don't know if exaggeration is the correct word, though it was in a sensationalistic style. But the problem I had with it was the lack of our emotions coming through in his writing style, which was because he was a writer for the Star, a tabloid publication. There were numerous passages that gave the wrong interpretation because of his writing style.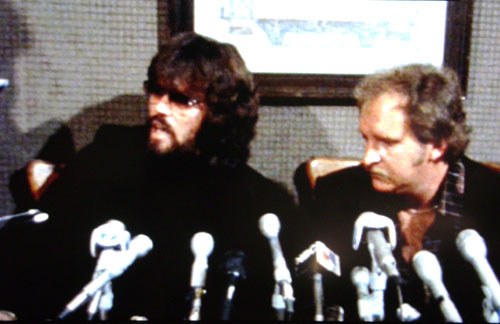 Sonny West And David Hebbler, during a press conference after Elvis death.
ECB: Do you know if Elvis ever read the book, and if so, do you know what he thought about it?
SW: I don't know if he read the book, but I do know he was reading the manuscript as it was being written. He was getting a copy of it as it was actually being transcribed from tape to print. By what has been said by various sources that were there at the time, I would say he was very angry about it. He didn't think he had a problem, as he was in total denial. We knew he was going to be angry, as I stated in the quote on the page before the 1st Chapter page. But I also said, he knows every word is the truth.
ECB: There's another book that caused quite a stir in the fan base, the infamous Albert Goldman's "Elvis". What can you say about this book and your participation on it?
SW: I was very angry and upset over that book! Lamar asked me to do an interview with Albert Goldman who was writing it. I had no idea that it was going to be the kind of book it turned out to be. When I saw the excerpts of it prior to it's release, I went and got the copy off of my bookcase that he had sent signed to me a few weeks earlier and looked at the index. I was looking to check the pages where my name was either mentioned or I said something. I wanted to see if he had associated my name with some of the things he had written. He had not. He asked questions of me in the interviews that I said I didn't want to comment on, and he said okay, and went on with the interview. I told him that he wasn't to miss-quote me or indicate that I had agreed with, or seem to agree with anything that I did not comment on. He agreed to that.
He kept his word on that commitment to me, but that is the only positive thing I can say about him. I called him on the phone and told him not to contact me anymore and to please throw away my phone number and address, as I didn't want anymore link with him in any way.
The New Book
ECB: You're now releasing a second book, entitled Elvis: Still Taking Care of Business. Why did you decided to write another book?
SW: I knew a very long time ago, that I would write another book, actually this is my first book, as I didn't write the first one. I talked into a tape recorder and Dunleavy put in print, as I said earlier, in his own style. I did write this book, with Marshall Terrill, an excellent biographer and writer of some critically claimed books he has written. We had an understanding before we wrote one word, what I wanted to say and get it to come across to the reader the way I meant it. He agreed completely, and that is the way the book came out. Marshall and I are close friends now, and I am very proud of the book. I don't believe it would have been as good with some one other than him.
This book represents my contribution to Elvis' Legacy, which I feel is an insightful look in to what Elvis was all about as a man, singer, actor, entertainer, a boss, and most of all, as my best friend. I loved the man very much and even though the first book was done out of love also, this book was a statement of my love for him and what he meant and the influence and impact he had on my life.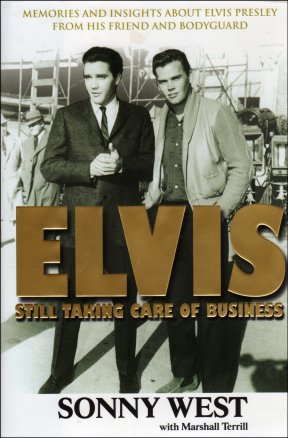 Elvis: Still Taking Care Of Business, the new book by Sonny West and Marshall Terrill
ECB: What will the fans encounter in the new book?
SW: My book has great untold stories of humorous events and emotional times that go back to when I first met him in 1958. Actually there is a couple that happened before I met him, regarding a girl I was dating in 1956 in Tucson, Arizona and at Red's father's funeral. The reviews have been very good, the majority of them stating a common statement, that the love I felt for him is evident through out the book.
ECB: Do you see this new book as a more accurate and balanced account of your life with Elvis?
SW: Yes I do. In this book about my life with him, I wrote it like it happened in my life, when it happened, how it happened and why it happened. I don't exaggerate, and I don't hold underplay it. It is what it is. Period.
ECB: If Elvis could read your new book, what do you think he would say to you?
SW: I think if Elvis could read this book, he would know that I loved him and was committed to giving him the feeling of being safe from harm as long as I was on "my watch". I think that many times in the book I would bring a grin or a laugh from him as he read and remembered some of the fun and crazy times we shared together over the 16 years of our close friendship.
ECB: Sonny, to wrap up this interview, could you please tell us about what are you doing know and what are your projects for the future?
SW: I am traveling around the USA and countries around the world doing shows where I tell stories of my life with Elvis, and also do a Q&A segment with the audience. I work with ETAs and also do my own show with just me. My wife travels with me and we are visiting beautiful countries that we have read about but didn't know if we would ever travel to them. Well, thanks to Elvis and his fans from around the world, we have been fortunate to see many of them. In fact, when I got the email from you regarding this interview, we talked about how beautiful your country is in the vacation brochures advertisements on TV and in magazines. I have a dear friend of mine, Mitch Ballard, who was Production Manager for BJ Thomas, also a dear friend of mine, that after coming there while working with BJ fell in love with your country and came back there every time he had vacation time. Someday we hope we will have an opportunity to maybe get an offer to come there with an ETA or just my show. I also have a new website, which is up and running, but pages are still being added almost on a daily basis. It will give Elvis fans that want to know what I am doing currently or in the near future a chance to find out. They can also purchase my book which will be personally signed to them. For all the details on purchasing the book, and soon photos of Elvis and me as well as other info about me they can go to: www.sonnywest.com I think they will enjoy the website and find some interesting information on it. Make sure they have their sound turned up on their computer as there is a unique sound on the first page that is not music.
ECB: Last, what do you miss more about him and how do you think we should remember him?
SW: I miss everything about him. I miss his friendship, his crazy sense of humor and infectious laugh, his whole persona. He was such a generous person, not just to those of us that he gave cars, or expensive gifts to, but the needy ones that were poor or deprived of basic items, such as many of us take for granted. He had a big heart, which he got from his mother, and many times it overflowed with care for others. I am fortunate to have known him in a manner that only a few of us were able to do, so I have special memories. But to those fans that love him, his music, movies, and what he represented as a good and caring person, you will always have those memories. If in my book, or DVDs or in shows that I do, I can add to them, I will be happy to do so.
In closing I would like to thank you and all Elvis fans in Brazil for this opportunity to share some of my thoughts and at the same time, maybe clarify some questions in your minds about him.
May God Bless all of you and your loved ones and keep you in His Grace always.
We like to thank Mr. West for the time he spent answering our questions and to wish him the best of luck on his future projects.
® 2007 Elvis Collectors Brasil. O conteúdo deste site, seus textos e imagens são de exclusividade do mesmo. Qualquer reprodução do seu conteúdo sem prévia autorização dos proprietários é proibida e consiste em falta de ética.

Home