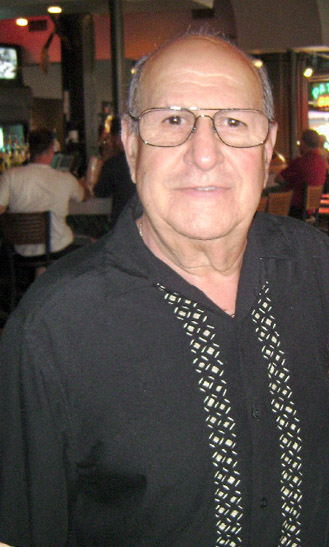 Joe Esposito doesn´t need any introductions. One of Elvis closest friends and best man at his wedding, he first knew him while they were both in the army. Joe would have his life changed forever when he went to work for the greatest star in the world. What folowed were years of fun, friendship, amazement and the inevitable sad parts. In this exclusive interview, "Diamond" Joe talked about these years and his friend, Elvis Presley.
The Beginning
ECB: Joe, to start this interview, please talk about your background, and the time when you met Elvis.
JE: I was born 1938, January. Just had a real good life and then I just got drafted into the service in 1958 and was only twenty years old, which was very unusual at that time because people were twenty tree years old when they got drafted and I got drafted at twenty. I got drafted two weeks before Elvis did. I was not happy to go to the army, but I guess it was meant to be, because it was how I met Elvis, in the army. He was over Germany and I was in Germany, we became friends there and my whole life changed. I left the service because he asked me to work for him. That was it, from that time on I was with him.
ECB: What were your impressions about him?
JE: My first impression about him, I was very nervous because I never met a star, an entertainer before, especially at that time the biggest star in the world. It was very amazing…There was a certain feeling that this was a nice man. I could just feel something about him, when I shook his hand…I knew I would be friends with this guy. Don't ask me why, I cannot explain it, I just felt it. And that was exactly what happened, we became very good friends and he was just and amazing, amazing friend.
ECB: What was the previleges of work for him?
JE: My fortunes were to experience life in show business, in Hollywood, meet all this other famous people because of him and it was a very exciting life being in Hollywood making movies.Like I said, I was this kid from Chicago and never would ever think that my life would be like that. And very few people can say they lived the life I did. Very few people.
Coming Back from the Army, The Movies and Marriage.
ECB: Did he ever shared his fears of not being as popular as when he entered the Army?
JE: No, he never did. The reaction he got right after the army, with the Frank Sinatra TV special, which was very, very high rated, were very positive and people still wanted to see him, his music was still going on very strong. But he never talked about those things. He was a guy that would never tell you about his problems, but would always ask about your problems, because he wanted to help you in any way if you have a problem. He held it all in, he never talked much about his mother. Of course we all know that he loved his mother tremendously, but he didn't talked too much about her. I guess he didn't want to be reminded of how much he loved his mother. But otherwise, he never talked about those times of his career.
ECB: Right after he came back from the Army, he made a recording session, which gave birth to the much acclaimed Elvis Is Back! album. Did you went along with him to these sessions, and if so, what are your impressions and memories of him as artist, creating his music?
JE: Well, those were very, very exciting times. When I went to work with him, I never missed one recording session from the time I went to work with him, until he passed away. Those sessions were very, very exciting and when I heard a song I remember when he recorded it, and how much fun we had. He had a great time in recording sessions. It was like a concert, everyone of them, because all the musicians were great and we had so much fun recording songs. The serious songs, you can see he is singing from his heart, cause he loved to sing and it was very emotional. Certain songs, when he sings it you could just fell it. Some songs could bring tears to your eyes when you're watching the recording sessions and to me, it was a tremendous experience.
ECB: He also made the picture G.I. Blues during this time. This movie and Blue Hawaii in the next year would set the pattern for his whole movie career. Although the movies were not so great, it seems that Elvis and the mafia had much fun on the sets. Do you remember any particular movies that stood out?
JE: Oh Yes, absolutely. Lots of fun. Elvis loved to have fun, and making those movies were great times, especially the locations, you know, places like Hawaii, Hollywood…We had a lot of fun on the sets. And he was such a good worker. He was always on time, he never was late, everybody liked him, all the workers, the directors, the other actors…It was a very fun time!
Viva Las Vegas was a lot of fun, especially Ann Margret. Ann Margret was one of the nicest people I have ever met in show business, just an amazing lady and I'm still friends today with her.
Follow That Dream, which was shot in Florida, we had a great time on location with him, the cast and crew. Certain movies have certain elements that always will be in my mind forever and I met a lot of great, great people.
IECB: It's a well know fact that he disliked these superficial movies very much, and wanted to be a serious actor. Did he ever confronted the Colonel about this matter? Did he ever demanded better scripts?
JE: You see, He talked to us about it. He didn't like a lot of the scripts, but he should have talked to Colonel Parker, and he would have done some changes. But Elvis was not a big complainer and if he did complain; he did it to the guys. He wouldn't complain to the people he should have complained to. That was one of his mistakes, one of his faults.
ECB: Also during this time he got really involved with Ann Margret. How far Elvis was involved with her? Did he ever considered marrying her?
JE: I don't think so. There always those rumors on newspapers and all that stuff. They were great (together), they were very, very close, they matched together, had a lot of fun, but they both new, Elvis new, that he would never merry someone in show business, because he wanted a wife that wasn't doing movies and in Hollywood in location. He wanted a wife that would be at home. And that's why he married somebody like Priscilla, which he loved, no question about it. But marrying someone at show business he would never done.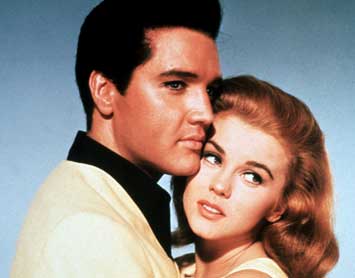 Elvis and Ann Margret in Viva Las Vegas.
ECB: Thats why the romance between them ended so abruptly?
JE: Yes, because it was getting too strong and I think that Elvis realized that. But they still remained friends after they broke up. He just knew that it wouldn't going to work and won't be right for both of them.
ECB: The 60´s were changing times for Elvis. He had lost his mother recently and his father soon married another woman, Dee Stanley. It seems that Elvis deeply hated this fact, is that true?
JE: Well, he didn't hate the fact, but he wasn't too trilled about her. Because he felt, and so did all of us, that she was marring Vernon just to be around Elvis. And basically that was what it was. She didn't married Vernon because she loved Vernon, but because she would have in some way, Elvis.
ECB: What became of the relationship between Elvis and his father after Vernon told Elvis about Dee?
JE: You know, Elvis loved his daddy and he said: "If it makes you happy that's fine". He wanted his father to be happy and that's basically what happened. He never talked to his daddy about it, never complained to his daddy about it. He said "Hey, It's my father and if he wants to enjoy life that's fine. If he is happy with her…"
ECB: Speaking about this subject, it's told by some sources that Elvis didn't want to marry Priscilla, but was forced to do so by her father. Is that true?
JE: Not true whatsoever. Elvis always wanted to marry Priscilla. Once they fell in love, he knew we would marry her. He just didn't want to marry her until she was twenty one years old. If you look at the pictures taken at the ceremonies he was very excited. People, show business and newspapers love to find bad things about to make money out of it. You couldn't make Elvis do a damn thing if he didn't want to.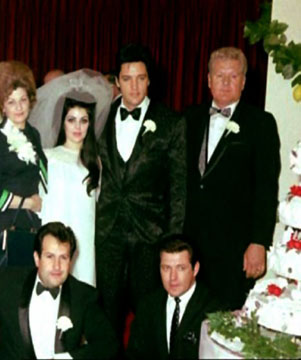 Elvis weds Priscilla. Joe was one of his best men.
ECB: During this time, Elvis bought you a very, very special gift. Please, tell us about this.
JE: I had an apartment in Los Angeles that I was renting. And he and Priscilla came by and they came to the apartment and we started talk. And he said, "You need a house, you don't need an apartment." And I said, "well, one of these days". He said "Not one of these days, lets going to get one right now!". And were in sort of a shock. There was a real state lady waiting for us outside and we went around, looking for some places and found a house and he bought me a house! For me and my family. And it was so hard, what can we say to somebody that buys you a house? All I could say was "Elvis I Love You and thank you very, very much for doing this for me." You see, he loved to see the expression on people's faces when he gave them something that they could never get. He loved it, he was a very big giver.
The Later Years
ECB: The late 60´s and early 70´s marked the time when Elvis made his second comeback, and was at the top of his game again. What are your recollections of these fast times when he made the Comeback Special for NBC and his returning to live performances at Vegas?
JE: That was naturally a big turnaround. Elvis was in a valley during the mid sixties, with all the music and the British invasion. He was very nervous when he was getting ready to the special, because he didn't know how people would react. But as we all know, it was the best special, the special of the year. He looked so great, and it was put together so well by those people, Steve Binder and other people involved in the making of the production of that show, that made him really feel good. And that was when the Colonel knew that he was going to be back on stage, and that's why we started touring again. As we all know too, he loved to be on stage, singing to people. That was his favorite thing in show business.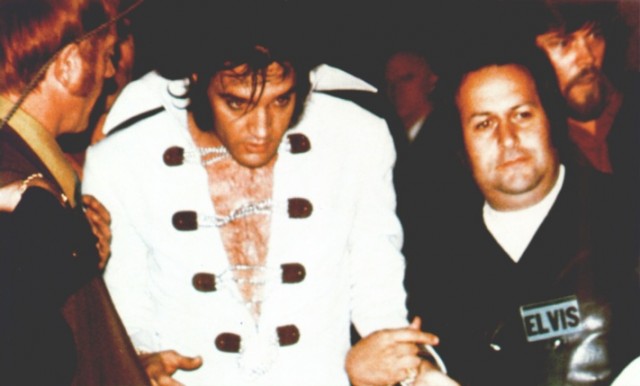 Elvis and Joe during the first tour in the 70´s. Red West can also be seen in the left.
ECB: What followed after his returning were years of concerts, music making and some hit recordings like The Wonder of You and Burning Love. It all culminated with Aloha From Hawaii. How excited was Elvis about this project?
JE: He was very, very nervous at first. You know, when he did the satellite show, nobody else had ever done a satellite show before. He was the very first entertainer, ever, to do a satellite show. It was very expansive to rent the satellite for one hour, and that's why the Colonel went to NBC, because they owned the satellite, actually it was their recording company. So they cut the deal and it was the first one ever and he was a nervous wreck.
But as he went along rehearsing, and enjoying Hawaii, he became very comfortable with it. The thing about it, when you go on a satellite show, you go on stage at a certain time and you got to get off at a certain time, otherwise they will just cut you off, the satellite will cut you off after one hour. So the hardest part that he was worried about, was to time it right. But as we all know it went along perfectly. I was at the side of the stage while he was singing, I had a flashlight and about ten minutes before I flashed the light to him and he knew he had ten minutes left.
It was an unbelievable performance, it was all for charity, and he was very comfortable when he walked on stage. He did a great job, looked fabulous. Can we ask for more? A great singer, in a great location, great music and its now part of history.
ECB: Right after the Aloha special, Elvis got back to Vegas, much to his dislike. To make matters worse, and ugly incident happened when some guys stormed the stage and attacked Elvis. What really happened on this night? Why the guys attacked Elvis and what happened on stage?
JE: There wasn't an attack to Elvis. The guy ran to Elvis to hug him, but you never know what someone's doing when they jump up on stage and its running towards a famous person... If he will stab him or what. So the security guards grabbed him really quickly and held him down. But the guy wasn't going to attack Elvis, he just wanted to meet him.
ECB: Unfortunately, after some four or five years of great projects, the enthusiasm to be back in front of an audience, seemed to diminish as the pressure and stress of a grueling tour schedule began to take their toll on Elvis. He started to gain much weight and his problems with prescription drugs escalated greatly. This leaded to some bad performances, like in Maryland 1974. This was the first time he appeared in such a poor shape in front of an audience. What really happened to make him in such a poor condition?
JE: Well, he got hooked up in prescriptions drugs, and we all know that this is a difficult thing to get ride off. People always ask us why we didn't do something about it. And we all tried to do something about it, but you could not make Elvis do something that he didn't want to do. Anybody that is an alcoholic, a drug addict or have a prescription drug problem, they must be the ones who decides that they want to change their lives. You can't convince someone to do that. And his family on his mother side, they were very addict people. A lot of his young cousins and relatives died at young age from alcohol and even from drugs too. He found a couple of his cousins dead in bed in Memphis, when I was with him. So, as his mother side was very addictive, I think that this is where he got that from. It was very difficult, you know, when you're a star of that quality and people is always after you, it's a lot of pressure. He was getting older, at that time he was thirty nine, soon to be forty, and in those days, when you turned forty that was a highlight of your life and from that time on, it was all the way down, not like today. So all that stuff on magazines about being "fat and forty, affected him tremendously. So what you do? You take another pill or another drink…He wasnt an alcoholic so...
That was one of the things that got him. And at the last part of his life, those guys, so-called friends, wrote the book about him, Elvis, What Happened? And that depressed him. The last year of his life, that was all we talked about every night until he passed away.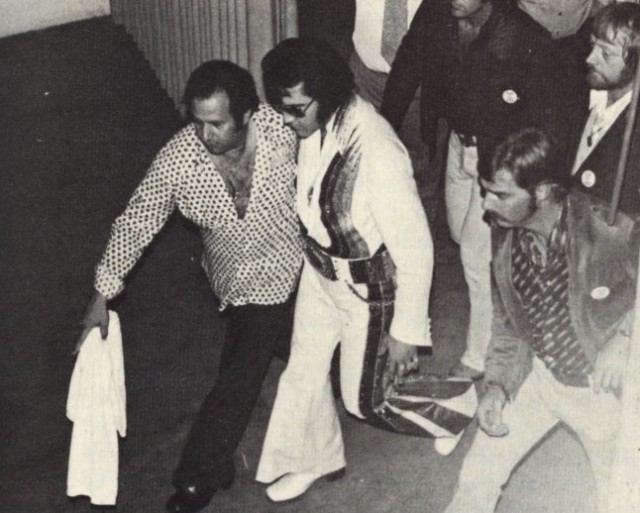 Joe escorts Elvis to his concert in Maryland, 1974
ECB: Was the colonel aware of Elvis health and drug problems?
JE: Oh yes! The Colonel talked to him about it, absolutely! And Elvis would say, just to take you out of the room: "I'll change, I'll get better", and then he wouldn't do it. And if you got back at him, he would say: "Hey, if you don't like around here, get the hell out"
ECB: He was very angry with the tabloid rumors that he was strung out on heroin in the closing show of his august Vegas season 1974. Once he got on stage, he threatened to break the dam neck of the "son of a bitch" who got the word to the press, also saying the he would pull out his tongs from the roots. Do you remember this night?
JE: Yeah, I know it…but it wasn't that bad. We all say things sometimes when we got angry, that you're not really going to do. He would get really mad about things but then he would sit and realize "Hey, what I'm doing?"
When you're a big star, they will come up with all those amazing lies, they change stories, because they love to sell newspapers and magazines. It is still this way today.
ECB: During his Vegas stint in March 1975, he was visited by Barbra Streisand, who offered him one of the leading roles on A Star is Born. Elvis was very happy with the offer and it seems that he wanted it badly. Why the colonel declined this opportunity and how Elvis reacted to this missed opportunity?
JE: I was there when Barbra and her boyfriend came to talk to Elvis about it. I was at the room with him and he thought it was a great idea, a great part. But you don't start to do a movie just because somebody asked you to do so, and he got the details and one of the details was that her boyfriend, which was his hairdresser, John Peters, was going to be the director of the movie. Well, a lot of things were brought up, "Wait a minute, this guy is not a director, he is a hairdresser". He isn't a big director or someone like this. And then we started to getting rumors about the work with Barbra on the set was very, very tough. She is a very demanding person and she wants everything done her way, so it was bound to be a conflict between her and him. There was also the money reason. Elvis wouldn't get the amount of money he was used to get from movies. There's was lot of little things back and forth that didn't come together correctly.
We will never know how would have been, if he would done it, but certain things in life you don't know why they happen to you. A lot of times there is a reason for it.
ECB: Do you have any recollections of his last two Christmas, in 1975 and 1976?
JE: Well, we enjoyed our Christmases, we did. We had a lot of good times, because Christmas was his favorite time of the year. He loved it, he loved to give gifts, he loved the atmosphere, he was a very religious person and he loved the music, so these were very enjoyable times. It was hard because what he was going thru, but one day he would wake up, and would be fun and happy and good looking, lots of good times and we would do that for a couple of weeks and then all of sudden something would happen that would depress him and he would took the medication again. So, it was tough. Good and bad.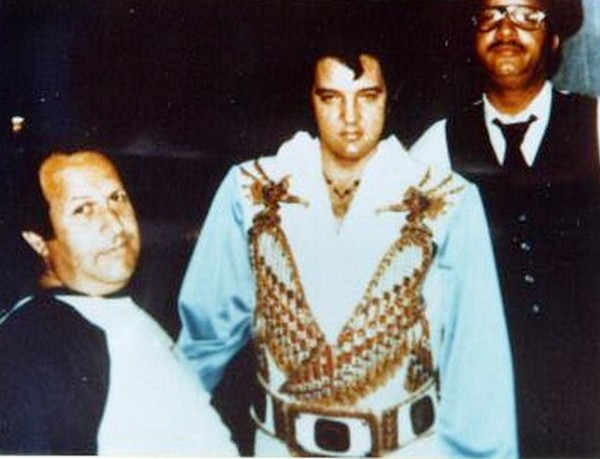 Elvis and Joe, in one of the 1976 tours.
.
ECB: He did his last TV special in 1977 for CBS. Did he ever talked to you about this special or what he thoughts about it?
JE: No, he didn't. He wasn't in good shape at that time and it was hard to talk about certain things. But he was this kind of guy that if he committed himself to do it, he would do it. The thing about it is that he looked terrible but if you listen him sing, his voice was very strong, he was powerful; it's just that he didn't look good. It was very sad, to all of us.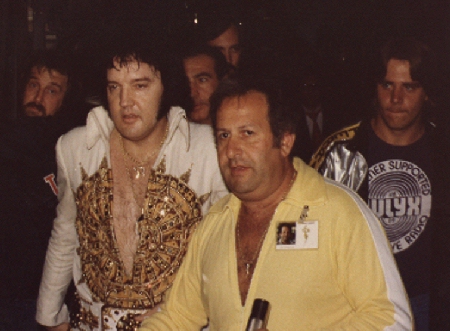 Joe and Elvis in one of his last tours, 1977.
"The Book"Ginger And The Fatidic Day
ECB: Near the end of 1976, Elvis met Ginger Alden. He seemed to be very happy with her for a while. But after some disagreements it looks like that he was losing his interesting on her and rumor has it that she would be soon replaced by another girl friend. But there are also stories that he would marry her. Is there any truth to it, Joe?
JE: No, there's a lot of stories about that situation. He met her and she is very pretty girl, very nice, but the biggest problem with Ginger's situation was that her family was all around all the time. Her mother was the boss of Ginger, telling her what to do, what to accept…She was always hanging around with us, wanting to be around Elvis all the time and Elvis wasn't too thrilled with that. He liked Ginger very much, but her mother pretty much controlled her and wanted to be around Elvis all the time. I don't think he was going to marry her. He may have told her that he wanted to marry her and stuff like that, so she would stay around, but after a while he started to date her, he started to date other women too. I don't think he was ever going to marry her.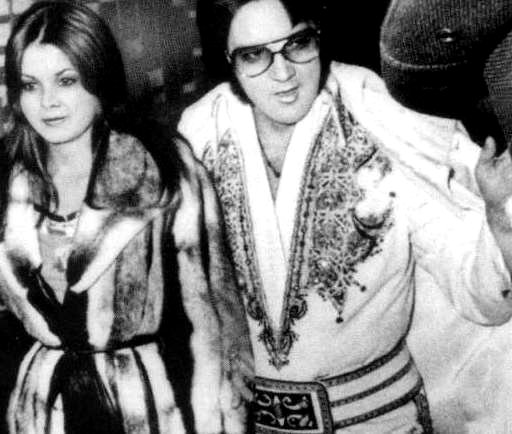 Elvis with Ginger, December, 1976.
ECB: A little early, Elvis fired his long time friends Sony and Red West, and also David Hebler. This would have devasting consequences to his private life. What was the real reason for Sony, Red and David being fired by Elvis?
JE: Vernon was the one that came up with the idea. They were getting a lot of different lawsuits, because they were a little too tough on people on the road. When you stop someone, you cant go crazy and hurt someone. That's when Vernon told Elvis that "We are being sued by all those different people, because what's going on on the road and we got to let these guys go." And that was what happened, Elvis said "Ok Daddy, if its what you have to do…" And he let them go and that's why the book came about. Apparently they were very, very upset, but they should have know better. We all got fired at one time or another, because Elvis was mad. I know darn well, especially Red should have know, that they would be hired back in three months latter. But all of sudden, they got together with this bad writer [I.E: Steve Dunleavy], to write this book. When Elvis heard that he was very upset and that bugged him till the last night. In the last nine months of his life, every night, it was all we talked about…About him being betrayed by so-called friends.
He just couldn't take it out of his mind. He kept saying "My daughter is going to read it when she gets older", "she is going to see it in the wrong way" and "why did they do this to me". It was very, very, hard.
We were getting copies of the chapters as they were being write, and he would read those chapters and those were very, very upsetting to him. And as we know he was depressed the whole last year of his life, and that I would say, was the cause of 80 % of his depression.
ECB: Not too much time after he knew about the book he would sadly died. You're an ocular testimony of this terrible day that the world never forgot. As much as this is painful subject, could you please tell us about the day the world lost the greatest entertainer of all time?
JE: Well, as you know, we were getting ready to go on tour that day; we were supposedly to go to Portland, Maine, because he had a concert at the 17th. So we are there, August 16th, getting things ready like we normally do. We would leave at the evening of the 16th, and I got there at the night of the 15th and talked to him at the phone, asking him what he needed, if he needed anything special for the next day, the usual thing I always did. He said "Well Joe, just make sure to wake me up at four o´clock, afternoon." So, I took care of everything and I was in the house on the 16th, about 12 noon, starting to preparing things, getting in touch with the pilot and the crew guys to let them know the time we would going to take off. Al Strada was at the house, taking care of his wardrobe. I was just doing my job and at two o'clock a phone call came from upstairs from Ginger Alden, to the maid in the kitchen. They picked up the phone and Ginger asked if there any of the guys were down there and Al happened to be at the kitchen. She said "Let me talk to one of the guys" and they gave the phone to Al and she said that Elvis fell down in the bathroom. We ran upstairs and that's when we found Elvis on the floor in the bathroom. I tried to revive him, but I couldn't .I grabbed the phone, called an ambulance and all of sudden Vernon comes upstairs and I was so upset, because I thought he would have a heart attack, because he had an heart attack a year and a half before, so we were concerned about him.
I tried to revive Elvis as we waited for the ambulance, and finally it arrived and we put him in the ambulance and I jumped in the back with him and Charlie Hodge jumped with me too. Dr. Nichopoulos just at that time pulls up and jumped in the back with us. We took him to the hospital, they took him to the emergency room and somebody escorted us to a separate room and we seated there waiting. Finally…Dr. Nichopoulos came out and told us he was gone. Naturally, we were all crying. We couldn't believe it. Eventually people started to show up, Billy Smith was there, newspapers started to calling, TV stations were checking with the hospital, waiting to know why Elvis was in the hospital.
We asked Dr. Nichopolous to go back to the house before we made the announcement that Elvis has passed away and tell Vernon before he haves to hear it on the radio. One of the police officers picked up Dr. Nichopoulos and drove him to Graceland so he could tell Vernon and after that, I started to make some phone calls. I called Colonel Parker in Portland, and told them what happened and he was in chock. He said "Joe, I will get there in a few hours, hang in there."
Then I called Priscilla, told her about it, and some other people too. Then the doctor came to me and asked if I wanted to make the announcement, because the press was out there. I thought for a while and I said that I couldn't do it and asked him to do it.
After that there were phone calls from all around the world coming to me, different people calling and newspapers, reporters. It was a very tough two or three days, but we had to do a job and we all got together, the guys, sat around talking…
Vernon wanted a open casket so the fans could came by and say their goodbyes to Elvis. It was tough, but everybody did a good job. They knew this would be Elvis's last show, that's how we called it, so we wanted to make it right.
And the people showed from around the world, it was very, very impressive, very tough and this would be the last time we would see Elvis Presley. It was hard, very, very, hard. Actually I didn't realized that he had gone for about three months after he passed away. I didn't want to accept that my friend was dead. I wanted to believe that I would see him again. Then I got very, very depressed… It was tough. It was hard in every one of us.
ECB: Do you believe that he may have died because of an overdose of prescription drugs?
JE: No, Elvis had an enlarged heart. Always did. It's called athletic heart and this is not good. He had high blood pressure, and other physical problems. With all the medication he was taking and the way he was living his life…We kept saying to him: "You got to take six months off" and he would say "No, I have to keep working". I think this heart said "That's it, I can take this anymore", and just stopped. Elvis could take large amounts of prescription drugs and it wouldn't affect him. We never thought that he would die at the age of 42. We always thought that one day he would wake up and say "I will do it myself" and could change it all around…but it didn't happen.
ECB: While we are on this sad subject, could you please tell us about the picture of Elvis in the coffin? Who took it and what was Vernon reaction when he knew about it?
JE: It was very, very upsetting. It was one of his relatives, one of his cousins that did this. The National Enquirer gave him the camera and said that they would pay $10.000 if he could take a picture of Elvis in the casket. This just goes to show you what people can do for money. He took this picture and gave to the National Enquirer. Its amazing how somebody would do something like that, specially a relative.
ECB: After he died, many believed that naturally, he would be soon forgotten. However, his legend seems stronger and stronger. You're there at the 30 Th anniversary of his passing. What were you thoughts about the celebration and the fact that even 30 years later, people came from all around the world to pay their respects in Memphis?
JE: My thoughts were this, and I always felt this way: There was something that Elvis had special. He had a charisma about him, the look of his eyes, his unbelievable smile and his voice…You could hear that he was singing from his heart. And that makes people feel good. That's why his music is still strong today with young kids, little kids of six, seven years old, teenagers…He had such an appeal that other performers didn't have and never will have again. God gave him something that he doesn't give to anybody else and that's why he is still out there. People get depressed, they go put an Elvis CD on. It makes them feel good.
I was very, very impressed and could not believe that this August was thirty years since he has been gone. Bigger than ever, younger fans going crazy over him and it makes me feel real good. That´s just shows you that there's only one Elvis Presley and will never be another one like him. I was very honored to be his friend and to be there in his life.
Your Projects and The New Books
ECB: Changing to lighter subjects, you produced quite a bit of material regarding Elvis. In the VHS era there was My Home Movies of Elvis, which was a hit with the fans. Is there more of this 8mm footage that had not been seen by the general public?
JE: Yeah, there's still some out there. Not necessarily mine. I have a friend who haves a lot of it. One of these days we are going to put it out there.
My home movies, that's a whole another history. I wanted to do a nice special just on my own home movies showing the personal side of Elvis, but it never happened due to legal problems. I hope one of these days I will.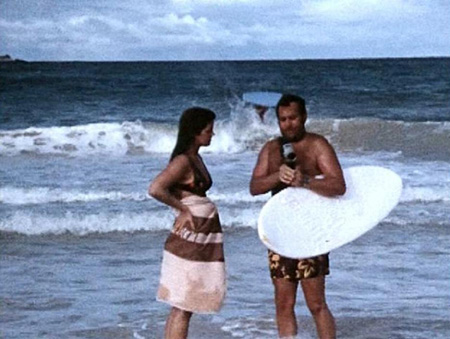 Joe with Priscilla, in a beach, around 1969. Joe is holding a 8mm camera.
ECB: You also released some books that were very well received by the public and now you have a new one, entitled Remember Elvis. Please, tell us about this new book and what can we expect of it.
JE: Well, it's a very interesting book. No one has done a book like this before. Its over two hundred interviews with people that dated Elvis, who worked with him in movie sets, co-stars, other celebrities that new Elvis, business people. They talked about him, what they thought about him as a person. It's amazing when you read it, because it is the actual words out of their mouth. We taped it all and their were transcribed, so its not like when you sat down taking notes and then you write the way you want it to be. It's very interesting and everybody who reads it, says it's the one of the best books they ever read, because it really tells you what Elvis was really like.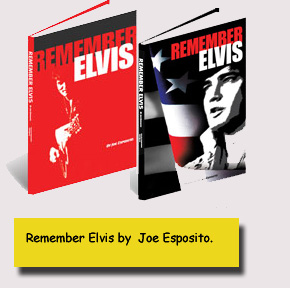 ECB: There's also a new website where the fans can ask you questions about you and your times with Elvis, and the other new Book Celebrate Elvis, right?
JE: Yes, we have a new book out, called Celebrate Elvis and basically that's a lot of different interviews with people that never talked about Elvis, plus a lot of questions from the fans that I answer in this book. It's a nice book. Its just get into the real "inside" stuff, it comes right out of my mouth and when there's a question I cant answer I don't answer, I just say I can't answer that question. I don't make it up.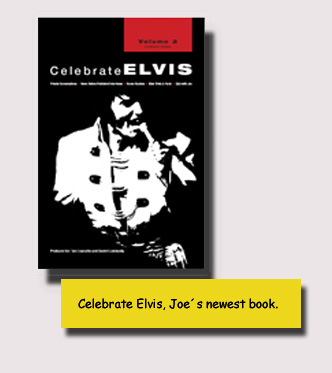 [NOTE: You can acquire Joe´s book by entering his website: www. http://www.tcbjoe.com/joesbook.html or by clicking on the books]
ECB: -Is there new projects in the plan?
JE: Well, there's some stuff right down the road that I still want to do. I still want to do something with my home movies, eventually.
ECB: Finally, what you miss more about him and how we should remember him?
JE: Well, You got to remember him by his music, which makes people feel good. He loved to be on stage because of the fans. And he knew if it wasn't for them, he would not be the star he was. Some other celebrities, they ignore the fans. Elvis loved his fans, he would stop for half an hour to sign autographs, take pictures with them…A lot of those new stars, they don't do that.
Like I said to you, I fell everyday that Elvis is in my life. Still is today. Because here we are talking about him today, thirty years later. I met a lot of people today, because of him and I made a lot of friends because of him. I cannot believe that I was fortunate enough to work with Elvis. The nicest guy in the world, the nicest individual and such a gifted artist. I was very fortunate and I'm very, very happy to say that I was friends with him.
We like to thank Mr. Esposito for this interview, and for the time he spent answering the question, and to wish him the best of luck.
Joe Esposito Interviewed by Sergio Biston on November 2007
® 2007 Elvis Collectors Brasil. O conteúdo deste site, seus textos e imagens são de exclusividade do mesmo. Qualquer reprodução do seu conteúdo sem prévia autorização dos proprietários é proibida e consiste em falta de ética.

Home